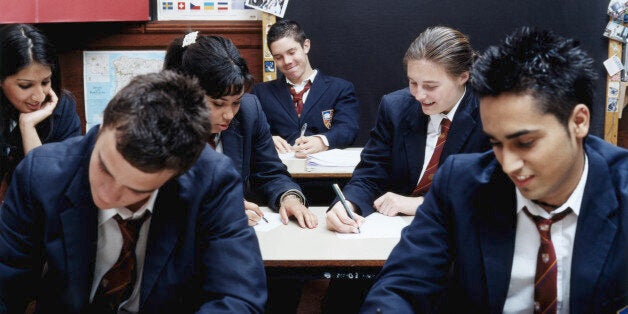 New data showing young, white, working class men are more than 50% less likely to attend university than women from the same socio-economic background has been slammed as a "tragic waste".
Women aged 18 are 35% more likely to enter higher education than men the same age, the highest difference ever recorded, according to figures published by UCAS.
However, these differences widened when it came to students from disadvantaged backgrounds. In disadvantaged areas, men were 52% less likely to attend university than their female counterparts.
Male students who received free school meals were 51% less likely to attend university than females who received the same.
Data released by the Department of Education (DfE) last year showed less than 0.5% of state school students on free school meals gained a place at Oxbridge in 2013/14, and only 5% of those students gained a place at a Russell Group University.
Dr Lee Elliot Major, chief executive of the Sutton Trust, a foundation dedicated to improving social mobility through education, told HuffPost UK: "The poor academic performance of disadvantaged boys, especially those from white working class backgrounds, is a tragic waste of talent with a significant economic cost.
"If we are to make sure that every pupil, regardless of their gender, ethnicity or background, is able to reach their full potential, we need to redouble our efforts to close these attainment gaps."
He continued: "Not only should every child have access to great teaching and the chance to go to great schools, but students who are at particular risk of falling behind should be given additional encouragement and support."
The exact destination of these disadvantaged students is unclear. The Department of Education release information about the destination of school leavers by ethnicity, socio-economic background and gender, but they do not release data on specifics, for example white working class males.
The DfE's most recent statistics do show in 2013/14, 29% of students on free school meals attending a state school did not enter any further education or employment, although there is no indication in the data as to where they continued after finishing school.
The government's Higher Education Green Paper, released in November 2015, identified "substantial gaps in the progression of white males from disadvantaged backgrounds to higher education", promising to "continue to work with DfE to explore how we can further raise aspirations and attitudes in particular for white males from disadvantaged backgrounds".
Mary Curnock Cook, UCAS' Chief Executive, however, feels substantial action needs to be taken earlier.
"Girls are doing better throughout primary secondary and higher education than boys; poor, white boys are the most disadvantaged group in entry to higher education and the gap is getting bigger.
Curnock Cook continued: "The focus on white working class boys in the Higher Education Green Paper as part of the wider aim to widen university participation from all under-represented groups is a really important signal of change."
"But no amount of outreach by universities will work if boys are still too far behind when they come out of secondary education", she added.
Her comments come after The Sutton Trust released a report last year showing that only 29% of white working class boys living in poorer areas continued education after the age of 16.
This was compared to 46% of white working class boys living in more affluent areas, and the 68% of boys from more advantaged families.
Popular in the Community