In a hastily worded statement, written to address the "misunderstanding" they claimed had befallen some of the country's media, council bosses insisted there had been no change in policy over how exams were scheduled to fit around religious holidays.
The Joint Council for Qualifications (JCQ), which represents Britain's six largest exam providers, attempted to water down those claims by insisting there had been no change in policy to favour one religious group over another.
Following reports in several national newspapers, with the Daily Mail carrying a comment from pressure group 'Christian Concern' comparing the scheme to Saudi Arabia's "sharia principles", the JCQ defended 2016's timetable changes, saying they were "natural".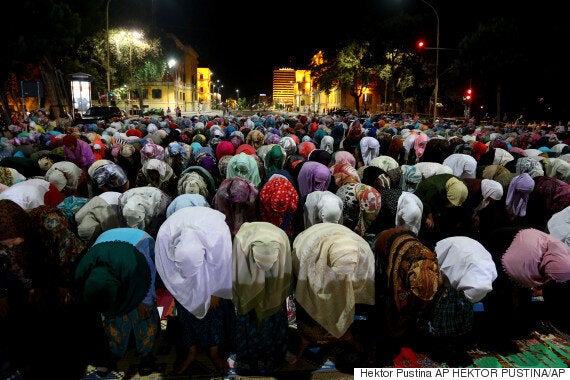 Muslims praying during Ramadan
"Rescheduled exams are all part of the natural changes of setting an exam timetable," a council spokeswoman said.
There had been concerns in the Mail's report that more than 200,000 schoolchildren taking their GCSE and A-Level exams this summer would risk having their grades suffer if tests were moved earlier into the year than usual to avoid Ramadan.
The Holy month for Muslims falls 11 days earlier each year - in 2016 lasting from June 17 to July 18 - meaning this is the first time since 1983 the fast has encroached on exam season.
But the JCQ claimed there had long been a policy of trying to schedule assessments around the holidays of multiple faiths - and that any exams that may be affected by being moved for Ramadan were in line with its current rules.
"There has been a clear misunderstanding in some parts of the media as to how the GCSE and A-level timetable is set and the impact religious events, such as Ramadan, Easter and Passover, have on it," the JCQ said after concerns were first raised on Thursday.
"It is important to note that the timetable for 2016 was drafted over a year ago, is published, and won't be changing."
There remains little detail of what exams are subjected to change, as many subjects are unaffected - either because they are less popular or were originally scheduled before Ramadan anyway.
Two commentators decried suggestions that the new rules would favour Muslims unnecessarily, reminding their social media followers that other religion's festivals were taken into account when scheduling exams too.
Popular in the Community