An Israeli reporter has been stabbed on the job while testing a "stab-proof" protective vest.
Eitam Lachover was filming a segment about a company designing the vests when he decided to be part of the demonstration.
The Channel 1 reporter had agreed to test the hardware, to prove the importance of the gear, but ended up injured.
Skip to 1:00 on the video above to watch the demonstration.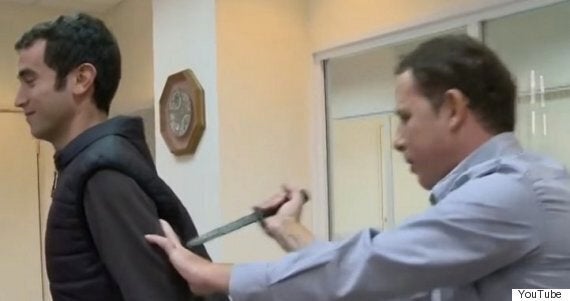 Eitam Lachover accidentally gets stabbed while testing a stab-proof vest
"The knife did not penetrate the vest. The reporter moved during the demonstration, and the 'stabber' missed the vest. The reporter was stabbed slightly above the vest," the company said.
Lachover only suffered a light injury to his upper back after the accident and the manufacturers are still are confident the item is safe.
He later said on Twitter that he got stitches and was discharged from the hospital.
An earlier take of the demonstration was successful and did not harm the reporter and was to be broadcast on Wednesday, a spokeswoman for Israel's state broadcastertold the Telegraph.
SEE ALSO:

Dulwich Stabbing: Two Teenagers Stabbed At Kingsdale School In South London