A group of refugees have been caught on camera instigating a fight with a Serbian police officer, but all is not what it seems.
As the children pelt the lone officer with icy chunks of snow and corner him against the side of a wall, he can be seen in fits of laughter and giggles.
Throughout the heart-warming 36-second clip, the kids run around in circles and enjoy a moment of normality.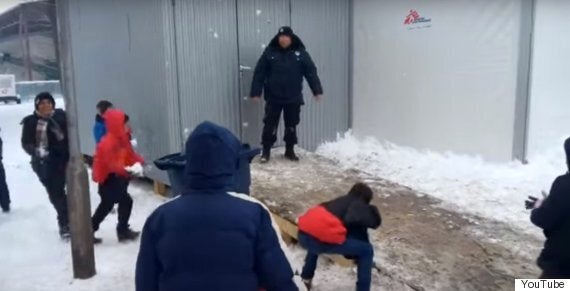 The fight broke out in a refugee camp
The footage was taken from a camp at Sid, west of Belgrade on the locked-down Croatia-Serbia border.
There are currently around 10,000 asylum seekers in Serbia, with many of them became stranded trying to reach the EU after Croatia closed its borders last year.
According to the UNHCR, the majority of the new asylum seekers are Syrian, with Serbia receiving by far the largest percentage of those seeking international protection in its region.
The organisation warns that many of the refugees in the country move on before their international protection needs have been assessed.
It blames this on difficulties in applying for asylum, inadequate or insufficient reception conditions, low recognition rates, or a lack of local integration prospects.
Popular in the Community