Instead of 'EastEnders' fans reaching for the tissues during Thursday night's episode, many unhappy fans were heading to Twitter.
READ MORE:
Millions tuned in to see Charlie Slater die after suffering a fatal heart attack, which started during Wednesday's episode.
But as the story unfolded, many viewers were left unimpressed - and unconvinced - by the scenes, which were branded 'unrealistic'.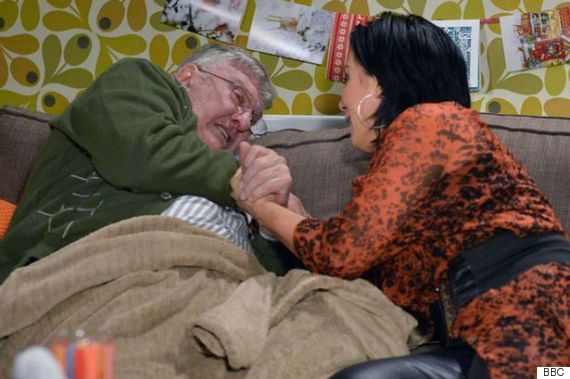 Viewers saw Charlie Slater pass away in front of his daughter Kat
One tweeted: "This is the longest dragged out heart attack ever - unrealistic script writing! #eastenders #charlie."
"This is the worst fictional heart attack in TV history #eastenders," another added.
This is the worst fictional heart attack in TV history. #eastenders

— Crusty Mingfield (@FluffCustard) January 7, 2016
Well! #EastEnders hv truly excelled themselves on the crap acting front this time! Charlie's dying scene! I actually laughed it was so bad!

— Ruth Davies Knowles (@rocknrollerbaby) January 7, 2016
Is Charlie in #Eastenders not the most awful actor ever??

— Nicole Jackson (@nicole_jackson) January 7, 2016
Charlie will probably raise back from the dead in tomorrow's episode knowing eastenders😅😅

— The Brooks (@ThisIsTheBrooks) January 7, 2016
Eastenders has me in tears😿 RIP Charlie

— kay (@_kayleighclarke) January 7, 2016
#eastenders is #Charlie's death the longest in soap history #dragitout

— kurt scanlan (@linvoyprimus) January 7, 2016
Why are the Slaters so useless during a heart attack? It's not hard! Call 999, stay on the line, stay with patient, EUGHH. #Eastenders

— LewisJ815 #DDay2Win! (@LJay815) January 7, 2016
Many viewers questioned how Charlie managed to have a lengthy conversation with his daughter, Kat Slater, in the midst of having a heart attack.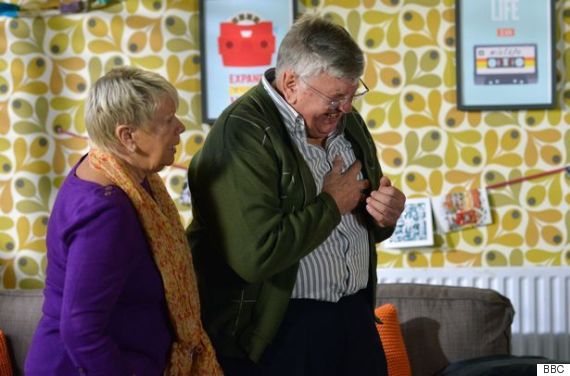 Others were annoyed that both Kat and mother-in-law Big Mo left him in the house by himself while they waited for an ambulance.
Not everyone was quite so harsh though…
So #EastEnders is better than 90% of the films I saw at the cinema last year.

— WayneDavid (@WayneDavid81) January 7, 2016
Eastenders is so sad, couldn't have happened to a nicer bloke than Charlie Slater

— Brad Mahood (@Brad_Mahood) January 7, 2016
Viewers have been rather more impressed with Lacey Turner's 'Oscar worthy' portrayal of her character, Stacey Branning's, mental breakdown.
The Walford favourite, who suffers from bi-polar, broke down in Wednesday night's double episode.
"What an incredible actress Lacey Turner is.. One of the best eastenders has EVER had. Amazing," one tweeted.
Another added: "Just finished watching EastEnders and Lacey Turner is an amazing actress."
LIKE US ON FACEBOOK | FOLLOW US ON TWITTER