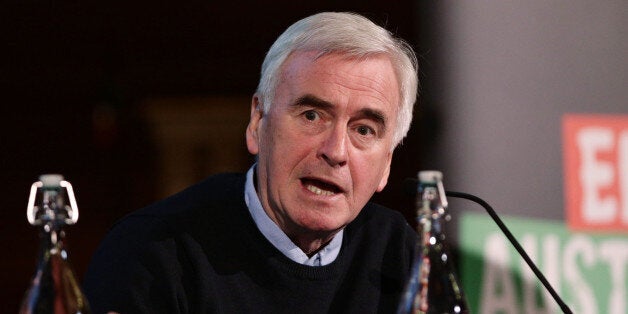 John McDonnell has accused the editor of the BBC's Daily Politics of deliberately trying to inflict "maximum damage" on Jeremy Corbyn after the programme broadcast the resignation of a shadow minister live on air.
In an interview with Politics.co.uk, published on Monday morning, the shadow chancellor said the treatment Corbyn receives from the press is "the worst any politician has been treated".
And he said due to a reduction in the number of journalists at broadcasters, TV news programmes were "taking their stories from newspapers". He said: "The bias of the press infects the broadcast media."
McDonnell said he was not attacking the BBC or its political editor Laura Kuenssberg. "There is a private company that makes the Politics programme which is commissioned by the BBC," he said. "The editor of the programme obviously decided to do maximum damage to Jeremy's standing."
On Wednesday morning, Stephen Doughty used an appearance on the Daily Politics to announce he had quit the Labour frontbench in protest at Corbyn's reshuffle.
Seumas Milne, Corbyn's director of strategy and communications, said this had been an "unacceptable breach of the BBC's role and statutory obligations".
The BBC hit back. Robbie Gibb, Editor of BBC Live Political Programmes, highlighted the BBC's commitment to "producing impartial journalism" that "treats all political parties fairly.".
Gibb noted that Doughty had "decided to resign his front-bench position on Wednesday morning, before speaking to any journalists."
And Doughty told The Huffington Post: "To suggest that the BBC coerced me to resign is beyond ridiculous.
"As I have already made repeatedly clear - I had already made my own mind up to resign because of the appalling reason for Pat McFadden's sacking over his comments on terrorism, and because of his subsequent smearing by spin doctors who have spent weeks briefing proposed sackings of other senior Labour figures to journalists across the media.
"This new complaint suggesting some dark conspiracy theory is not only embarrassing, embarrassing, embarrassing - it is handing fuel to Tory enemies of one our most crucial national institutions that Labour members and voters rightly want us to protect."