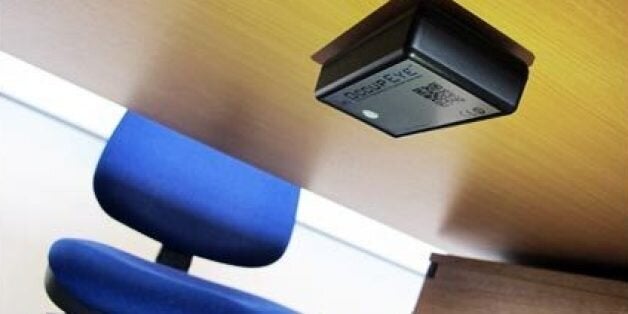 Telegraph bosses have caved to pressure from staff to withdraw controversial motion sensors that were installed under their desks without notice on Monday morning.
Journalists at the paper were left baffled after discovering the devices when they arrived at work for the week.
Broadsheet chiefs had insisted the surveillance boxes were being used to improve "energy efficiency", but one reporter jokingly said they confused it for a bomb.
After journalists complained, a Telegraph spokesperson told The Huffington Post UK: "In the light of feedback we have received from staff today, it has been decided to withdraw the under-desk sensors immediately.
"We will be looking at alternative ways to gather the environmental sustainability data we need, and will keep staff in touch with any new proposals."
Many staff had resorted to Googling the brand name which featured on the equipment, 'OccupEye', discovering the company's website that says it offers an "automated workspace utilisation analysis" by using sensors "triggered by both motion and heat".
"Quite simply, if a space is used, your OccupEye sensors will record it and you are guaranteed to know about it," the website boasts.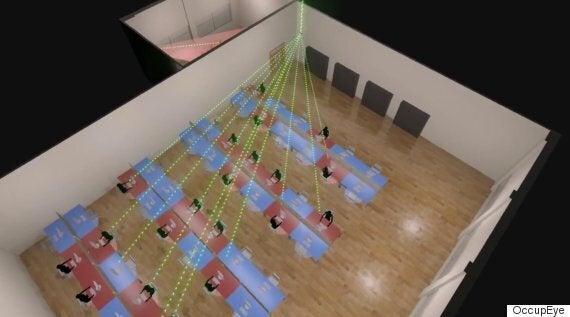 An advert showing how the technology monitors workers
Telegraph executives claimed in Monday's internal memo that their newly-purchased devices were part of a drive to become more energy efficient.
"These devices are part of our drive to make ​our floors in ​the building as energy efficient as possible and reduce the amount of power we consume for heating, lighting and cooling the building at times of low usage," they said.
"Accordingly, they are designed to record occupancy across each 24 hour cycle for all seven days of the week to make sure we are making best use of our space in ​the building."
OccupEye's website makes no mention of them being offered for energy efficiency tracking.
One Telegraph journalist had told The Huffington Post UK in response to discovering the box attached to their desk: "I was quite surprised to find one, I nearly thought it was a bomb."
Another reporter at the paper said: "It's creepy - don't they want reporters out talking to people?"