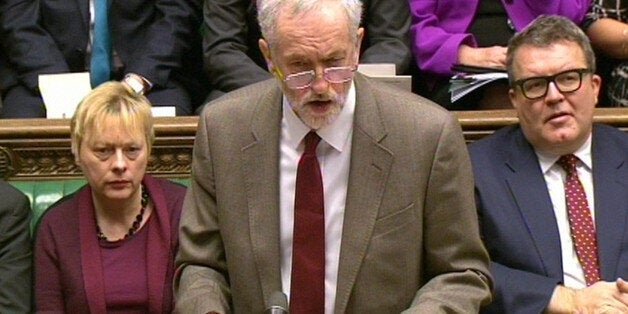 Jeremy Corbyn has insisted he is not "going to war" with his shadow cabinet, amid a potentially damaging split over Labour's policy on the renewal of Britain's nuclear deterrent.
On Monday morning, the he suggested individual party members could be given a vote on whether Labour would ditch its support for Trident.
Corbyn told BBC Radio 4's Today programme: "I want members to have a big say in it, whether that comes as a vote of individual members or a vote at conference, that will be decided, I haven't made up my mind."
Handing party individual members a vote is seen as a way to bypass opposition among Labour MPs and the unions to a change in position.
The Labour leader said the talk of a impending internal-split was overdone. "I think you're creating a crisis that doesn't exist," he told interview Nick Robinson. "In any event the whole decision that you're putting is four and a half years away – let's instead have a serious, intelligent debate. What role do nuclear weapons play in the modern world? Couldn't Britain play a part in bringing about a nuclear-free world."
And in the wake of last week's reshuffle, the fallout from which is still being felt, Corbyn said he was "not going to war with anybody" in the Parliamentary Labour Party.
"What I'm trying to do is represent a very broad swath of ordinary people's opinion around Britain who felt very put off by the politics of the past, very put off by the similarity of economic strategies of the major parties. What I'm promoting and putting forward is a different approach to the economy of this country," he said.
As part of the reshuffle, Corbyn moved pro-Trident Maria Eagle out of the shadow defence secretary job and replaced her with anti-Trident Emily Thornberry.
The party is also conducting a review of defence policy co-chaired by Ken Livingstone. The former London mayor is also against renewal of the Trident system.
Related