The 2015 General Election saw 176 MPs elected to the Commons for the very first time. In a series of exclusive interviews, The Huffington Post UK is speaking to MPs from the 2015 intake of the Conservatives, Labour and SNP. This week, it's the slayer of Ed Balls: Andrea Jenkyns...

In a night of election night shocks, Andrea Jenkyns pulled off one of the biggest.
Lib Dem Cabinet Ministers were losing their seats and Labour was being wiped out in Scotland, but the toppling of Shadow Chancellor Ed Balls in Morley and Outwood will be many people's abiding memory of that election night.
Ms Jenkyns may have been unknown to us in the UK before that victory, but she had something of a career as a pop star in Pakistan before entering politics.
Here is Andrea Jenkyns' 15 from '15:
1) Where were you born and raised?
I was born in Beverley, East Yorkshire. I moved several times with my parents. My dad started off as a lorry driver, he had a transport company, and then he had a furniture company making low-end things like bedside cabinets, chest of drawers, so we moved all over really from up north in County Durham, through to Cleethorpes, Lincolnshire, Yorkshire.
2) What did you want to be when you were 16?
I don't know, I think I just drifted. I can't think of anytime when career advice was that great. I drifted into retail. I helped out in my dad's factory when I was 14, bossing all the workmen about. I knew I wanted to manage, I've always been a bossy boots.
3) When did you first become interested in politics?
The turning point for me was when my dad went into hospital in 2011 for a routine operation as he had fluid on his lungs. A trainee doctor practiced on him for two and a half hours and he subsequently caught MRSA and died. That was a real turning point. Two days before he died he said: "When I get better we should set a charity up that looks at hospital infections and really gives support to the families and see what research we can do." I shook on it and two days later he died. A month later I emailed the charity MRSA Action and said: 'Can I get involved?' Mum and I became trustees and I became their regional voluntary rep for the region.
I decided if I really wanted to make a difference on the health side to put my money where my mouth is and put my name forward for the candidates list and the first seat I applied for was Morley and Outwood – I wanted the challenge of that and it's an area that I knew. Being a Yorkshire-woman it's nice to represent Yorkshire. I sold my house and moved in with Mum – she lives in the next-door constituency – and spent two years living with her and living off my savings to work full time on the campaign.
On the first count I was 170 odd votes ahead at that point, and I had a feeling I was going to do it. After the leadership debate with Nicola Sturgeon, on the doorstep there was a lot of concern about the SNP and a Labour coalition and within one week I had 50 Labour voters saying they were going to come over to us.
Ed and I always got on OK on the campaign trail, and we've got a shared love of music with his piano playing. The picture of me on stage where I've got my eyes popping out of my head – I do cringe at that picture because I look like a mad woman don't I? Backstage, when it was announced after a recount I went straight over to Ed, shook his hand and said: "Look Ed, I do feel for you, although obviously I'm glad I've won, I do feel for you, we're all human beings. You've been in politics a long time so this must be a difficult time for you and I genuinely wish you the best no matter what you go on to do." He said: "You fought a fair campaign and I know you'll make a good MP." He was incredibly gracious with what he said onstage as well.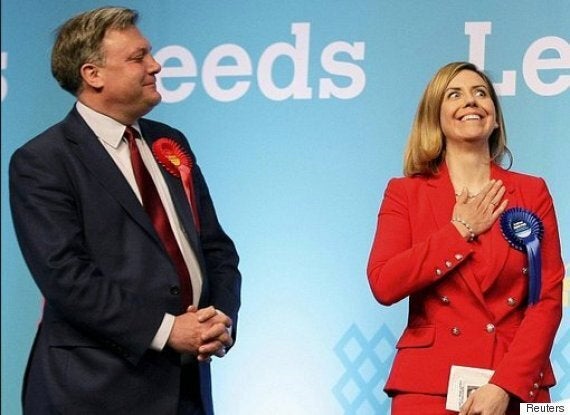 Andrea Jenkyns reacts to defeating Ed Balls
4) Do you have any political heroes?
No, because to have heroes you would need to have an interest in politics from a young age. My hero was my dad.
5) Who is your favourite politician from another party?
I get on with Christian Matheson (Labour; City of Chester) quite well. He's a good guy. Daniel (Zeichner; Labour), the chap in Cambridge and Jamie Reed (Labour; Copeland), he's a lovely chap.
6) What did you do for a living before becoming an MP?
I started at Gregg's bakery when I was 16 and on my first day I dropped a tray of pasties. I think they served the food but health and safety has improved since then. Then I ended up in retail after doing a BTEC national in business and finance and then I went straight to work. I worked my way up in retail from fashion retail to electrical to furniture to food.
I never got a degree but I graduated last year. As well as fighting the seat I decided to do International Relations and Politics at Lincoln and a diploma in Economics – I knew nothing about economics at the time – from the Open University. I did them both at once.
I had been having music lessons from an early age and I'm a singer/songwriter. I didn't have plans to headline Glastonbury as I didn't have the confidence. When Stars in their Eyes was on tele my dad was always telling me to go on there as Madonna or Sarah Brightman.
In my later twenties I had several bands. One was called 'Incantesimo', which is magical in Italian. The style of music was a mixture from classical to pop to rock to musical theatre. We'd do Phantom of the Opera then have a heavy rock guitar come through.
My dad was over in Pakistan in 2004 and he met the president and prime minister at the time and gave him my CD because I'd been writing songs since I was young. I ended up performing over there and shot a music video – which is quite embarrassing because it's widescreen so it looks like I've got a bottom this big and a head this wide. I'm not used to lip-synching so all the lip-synching is out on the video. I went on TV over there and there was this guy in the audience who when I was singing my song The Spell – which is a love spell – he was a Brit who decided to get on stage and dance with me. We got such a rapturous applause and people asking for autographs after – even for his as they thought he was a real actor. I had a great time over there.
7) What do you do to relax?
I'm not a person who finds it easy to relax. Whatever I'm doing in life I fill my time up. Songwriting and singing help me relax. I like a Chinese takeaway, a romantic comedy DVD and playing with my dogs. I love 'Serendipity', 'Love, Actually' and a really quirky one with Sarah Michelle Geller called 'Simple Irresistible.' I've literally got hundreds of romantic comedy DVDs.
8) If you could run any Government department which would it be?
If I could do it for a day, Health would be good as that's what drove me into politics in the first place.
9) What was the last book you read?
I started reading the biog of Hillary Clinton. I only got through about three chapters. I only read factual books or biographies, I don't like any sort of fiction really.
10) Who is your favourite band or artist?
I love Muse – I'm a mad Muse fan. They are so talented, like a modern-day Queen for me.
11) Would you rather go on X Factor, The Great British Bake Off or Strictly Come Dancing?
Well I can't dance. I've only recently got into baking and the thing with me with cooking is it's either fantastic or burnt because I put everything on full then forget about it. So X Factor.
12) What's been the biggest change you've noticed since becoming an MP?
I don't know if I have changed. I'm quite a solid person and at 41 you know who you are. I'm a blunt Northerner and I speak as I find. If anything I'm a bit more tired. I live off about three or four hours sleep a night.
13) What is the one thing you would change about UK politics if you could?
I would like to see politics in general be more positive. There's an old phrase about lighting a candle in a room of darkness, and giving hope really. I was brought up with a real positive upbringing and even in times of adversity and sadness there's always some kind stuff to find.
14) What one reason would you give someone to visit your constituency?
It's so patriotic it's fantastic. We have a St George's Day celebration and Morley town hall is amazing. It's an eclectic mix of a constituency with some lovely villages.
15) Which three words would your best friend use to describe you?
Blunt, funny and enthusiastic.