A Syrian suicide bomber was responsible for the Istanbul blast which killed 10 and injured a further 15 people, Turkish president Recep Tayyip Erdogan has said.
The explosion, which officials initially said was "terror linked", took place at 10.30am local time in the Sultanahmet neighborhood, a tourist hotspot that includes the Topkapi Palace and the Haghia Sophia museum.
The Telegraph said early reports had claimed the attack was carried out by a lone female.
Deputy Prime Minister Numan Kurtulmus said the bomber was a 28-year-old Syrian national whose "connections" were being investigated. He said most of the people who died were foreigners. It was unclear whether the death toll of 10 included the alleged bomber.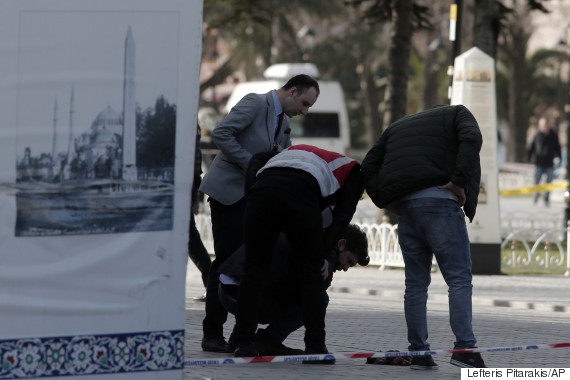 Officers search for evidence at Sultanahmet Square after an explosion killed 10 people
At least nine of the wounded were German nationals. German Chancellor Angela Merkel, speaking at a news conference in Berlin, said Germans from a group traveling together could also be among the dead.
"Today Istanbul was hit; Paris has been hit, Tunisia has been hit, Ankara has been hit before," Merkel said. "International terrorism is once again showing its cruel and inhuman face today."
The explosion, which could be heard from several neighborhoods, was at a park that is home to a landmark obelisk, some 25 meters (yards) from the historic Blue Mosque.
Turkey's Dogan news agency reported that one Norwegian and one Peruvian were also among the wounded, and Seoul's Foreign Ministry told reporters via text message that a South Korean had a finger injury. The Norwegian Foreign Ministry told Norway's news agency NTB that the Norwegian tourist was slightly hurt and was being treated in a local hospital.
The blast tore through the Sultanahmet Square, next to the city's famous Blue Mosque landmark, which was said to be swarming with security forces and ambulances in the aftermath of the explosion. Police have sealed off the area and are barring people from approaching in case of a second explosion.
No one is yet to claim responsibility for the attack, though Turkish officials have told reporters that Islamic State militants are behind the attack.
Two senior Turkish security officials say high probability that Islamic State militants responsible for explosion in Istanbul's #Sultanahmet

— Ece Toksabay (@ecetoksabay) January 12, 2016
A government official, speaking on condition of anonymity, said the explosion was believed to be "terror-linked", but declined to provide further details.
Istanbul's governor Vasip Sahin told CNN: "Investigations continue about the explosion's cause, the explosive's types, the perpetrator/perpetrators of the event."
Philip Hammond has told the Commons the British government is "seeking to verify" whether any British nationals are involved in the bombing in Istanbul.
Sajjan Gohel, the international security director at the Asia Pacific Foundation, told the broadcaster that Turkey had been on a "higher alert" for some time, having feared an imminent attack. In recent months there has been sporadic attacks by a far-left group, while violence is also said to have increased between Turkish forces and PKK Kurdish militants, mainly in southeast Turkey, after a ceasefire broke down, the BBC reported.
Story continues below
Private NTV television said the explosion, which could be heard from several neighbourhoods, was close to a park that is home to a landmark obelisk. Police sealed the area, barring people from approaching in case of a second explosion, the Associated Press reported.
The Sultanahmet neighborhood is Istanbul's main sightseeing area and includes the Topkapi Palace and Blue Mosque.
Erdem Koroglu, who was working at a nearby office, told NTV television he saw several people on the ground following the blast.
"It was difficult to say who was alive or dead," Koroglu said. "Buildings rattled from the force of the explosion."
Turkey has also been hit by bomb attacks prosecutors have blamed on the Islamic State.
Two suicide blasts in the capital Ankara in October killed more than 100 people and more than 30 people were killed in an attack near the border with Syria in July.
SEE ALSO