A Chinese monk is to be made into a golden Buddha after remaining in the lotus position three and a half years after he was placed into a cylinder, following his death age 94.
Monk Fuhou's mummified body was removed from a vat at the Puzhao temple in Quanzhou, Fujian Province on Sunday, having been placed there in 2012. His body was said to have been preserved as a "mark of respect". He had practiced Buddhism for 81 years.
Monks who attended the "open cylinder" ceremony on Zimao Mountain noted monk Fuhou had not rotted, while being contained in the sealed vat.
After being cleaned the monk will be covered in a gold substance and made Buddha statue.
In February last year high level buddhists claimed that a 200-year-old monk found mummified in Mongolia, was not in fact dead, but rather he was in a deep state of meditation.
The body was confiscated by police after a man attempted to sell it on the black market near the Mongolian capital of Ulaanbaatar.
Dr Barry Kerzin, physician to the Dalai Lama, and a Buddhist academic said at the time that the monk was in a state of tukdam, one step away from reaching enlightenment and becoming a Buddha.
Gankhüügiin Pürevbat, the founder of the Mongolian Institute of Buddhist Art at Ulaanbaatar Buddhist University, told the Siberian Times at the time: "The lama is sitting in the lotus position vajra, the left hand is opened, and the right hand symbolises of the preaching Sutra.
"This is a sign that the lama is not dead, but is in a very deep meditation according to the ancient tradition of Buddhist lamas."
The identity of the individual is unclear, but some speculate it may be the teacher of Lama Dashi-Dorzho Itigilov, who was also found mummified in 2002.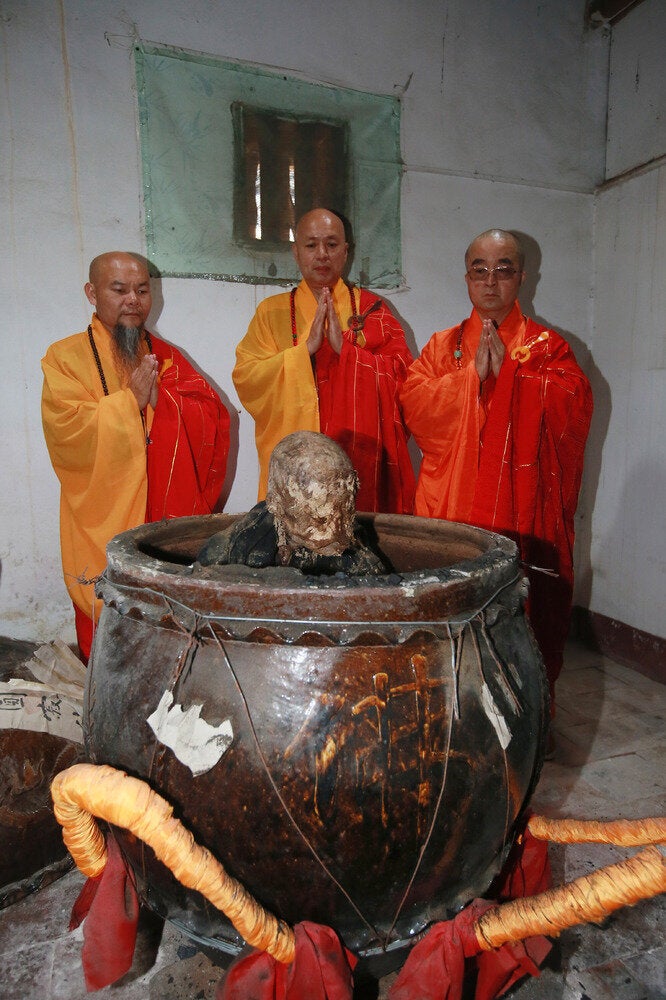 Monk Fuhou's golden tribute