Refugees entering Denmark could be forced to hand over their valuables in order to pay for their stay in the country after the government backed controversial changes to its immigration laws.
Under the bill, proposed by Prime Minister Lars Lokke Rasmussen's centre-right Venstre party, possessions exceeding 10,000 kroner - about £1,000 - will be taken to pay for refugees' accommodation while they apply for asylum.
Any individual items valued at more than 10,000 kroner will also be taken. Items of sentimental value, such as wedding rings, family portraits and medals will be exempt.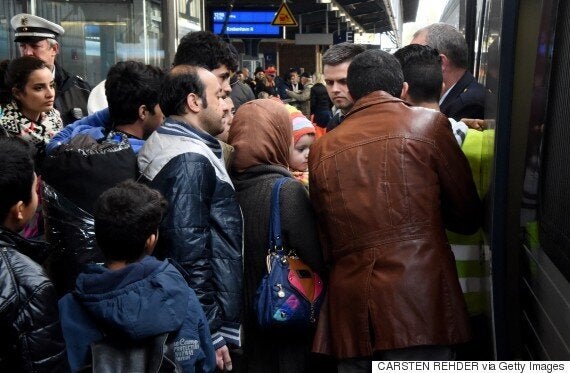 Migrants travelling to Copenhagen, Denmark, board a train in northern Germany
Denmark's parliament began debating the plan on Wednesday and the bill is expected to pass a vote on January 26.
The government initially suggested setting a limit for migrants entering the country at 3,000 kroner. But after backtracking, an agreement was reached with other parties in parliament to secure a majority of the votes.
The bill was criticised on Wednesday by 10 local and regional members of the Venstre party, AFP reports.
"It is not just a matter of proper policy and humanity, but also Denmark's international reputation," they wrote in the Berlingske daily.
"When focusing on symbolic actions rather than real content, you forget that politics is about real people of flesh and blood," they said.
Refugees said they were sceptical about the proposals.
A 25-year-old law student from Hama, in Syria, said that police would probably find little of value during their searches.
The man, who was in an asylum centre about 37 miles from Copenhagen, told AFP: "We almost paid everything to come here. Like a house, like a restaurant we owned before."
A police search of his bags would turn up "maybe 100 euros," he said.
A Danish government spokesman told the Guardian that comparisons between the new law and the treatment of Jews during the Holocaust were "ludicrous".
He added: "We're simply applying the same rules we apply to Danish citizens who wish to take money from the Danish government."
The bill will also include plans to delay family reunifications for some refugees by up to three years.
Last year, a Danish MEP defected from the centre-right ruling part to a left-wing party in protest against the government's proposals to take valuables from refugees.
Jens Rohde said the Liberal ruling party was pandering to the anti-immigrant Danish People's Party (DF), which it relies on for support in parliament.
"The Liberal party has lost out big time to the DF.
He added: "I'm wondering and I'm concerned that there's no major outrage among Danes, that there aren't more people standing up and saying this can't be right.
"It cannot be right that we have to accept that they take the last bits of jewellery and the last dignity from refugees when they arrive to Denmark."
Related