The husband and wife who have won half of the UK's biggest-ever Lotto jackpot have said they could donate to flood victims after their hometown was among those hit.
David and Carol Martin, who have been married for 28 years, said they had not thought what to do with the £33 million beyond buying their daughter a first-class plane ticket back from Australia.
But they said there were local causes "close to our hearts" and they were contemplating donating to victims of flooding in their native Hawick in the Scottish Borders.
The town suffered heavy damage after the River Teviot burst its banks as Storm Desmond tore through Britain in December, bringing strong winds and heavy rain.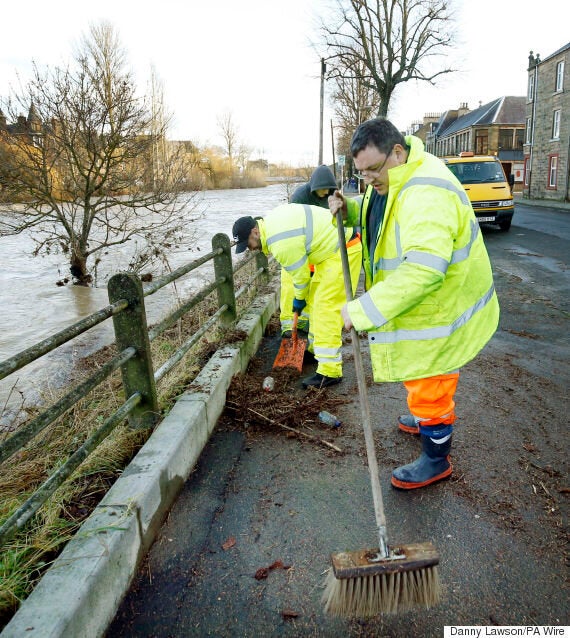 Workers clear flood debris in Hawick on December 6, 2015
Mr Martin said: "We don't have all the answers yet but we'd like to help our closest friends and family, and there are charities which are important to us too.
"Parts of our community have also been hit by flooding and we know lots of people who have struggled in recent times, so there's a lot for us to work out, but it's a nice problem to have."
Though they were not personally flooded, the care home Mr Martin's employers work for works for had to be evacuated. Mr Martin works for a provider of specialist equipment to the disabled and elderly and Mrs Martin works for a local Boots.
The couple, both 54, revealed they forgot to check their ticket until the following day and had not watched the draw live on Saturday night.
At an announcement in Edinburgh on Wednesday, the couple said they "would have been doing cartwheels in the living room" if they had won just £50,000.
On the couple's spending wish-list is a new home in the country, local to where they live now; a holiday home in the sun and a Range Rover.
The massive jackpot - the biggest ever - was the result of 14 rollovers.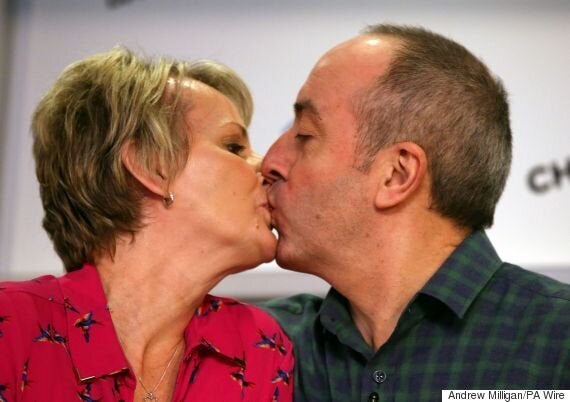 David and Carol Martin, both 54, kiss in front of the media
"It's 'Hoyk' not 'Howick'," David Martin reminded the journalists at the press conference.
When asked if they might move from Hawick, Mr Martin said they had not decided.
He added: "People don't realise, when you live in a small community, that It's a great place to live. It's had its trouble over the last little with redundancies et cetera. The people in general are really, really, really nice. It's a big decision to move away."
The couple, who are planning early retirement, said they had initially not planned to go public but realised "you can't keep £30 million quid secret".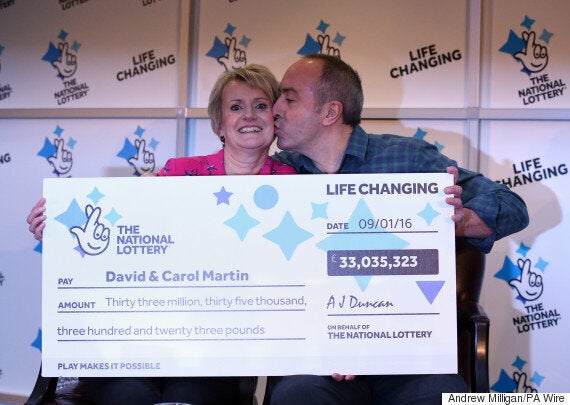 The couple with the cheque
The holder of the other winning ticket has yet to come forward.
On Monday, Lotto operator Camelot said the holder of one of the winning tickets had still not come forward and urged players to again check their tickets.
A spokesman said: ''Someone out there still doesn't realise they have won."
Prize winners have 180 days after the draw date to come forward, so the other winner has until July 7 to claim the prize.
Popular in the Community