David Cameron has been accused by a Labour MP of "shitting all over the working class" as he ran the risk of demonising people living on "sink estates" and labelled some jobs "menial".
At Prime Minister's Questions, Mr Cameron was pressed by Jeremy Corbyn about plans announced on Monday to sweep away troubled estates and let private developers build new and improved housing.
The Labour leader also highlighted research from Shelter, the housing and homelessness charity, suggesting people on the new "national living wage" will not be able to afford to buy their own homes in 98% of areas.
But the PM dodged questions on whether tenants and property owners in housing earmarked for demolition would be offered the same terms in new properties, and criticised Labour for having "nothing to say about people trapped on housing estates who want to better their lives".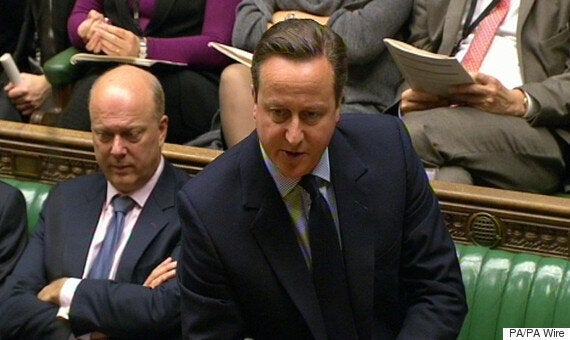 "We don't need the world's brightest and best to come here to study and then to do menial, labour jobs."
Referring to his Right to Buy policies to help people buy their own homes, he said: "Who here is the small 'c' conservative saying to people 'stay stuck on your sink estates. Have nothing better than you had after the war.'"
Mr Cameron used the phrase "sink estates" on four occasions during the half-hour session. Lib Dem leader Tim Farron said people in these areas "labelled as 'sink estates' deserve better".
Questioned by SNP leader in Westminster Angus Robertson on introducing post-study visas for international students, Mr Cameron argued people with graduate level jobs are allowed to stay in the UK - but added: "We don't need the world's brightest and best to come here to study and then to do menial, labour jobs. That's not what our immigration system is for."
He immediately felt the backlash from Labour MPs, including Brent Central's Dawn Butler.
In the chamber, Labour MP Carolyn Harris said her "background is what the Prime Minister would regard as menial" as she asked about high-stake gambling machines.
After the session, Mr Corbyn's spokesman said: "Using phrases like 'menial' shows his attitude to working people and that David Cameron is out of touch."
The Prime Minister's official spokesman said of the "menial" reference: "His view is we don't want a situation where people have come to this country from other countries, graduated, got a degree and taken up jobs which don't require graduate level qualifications, that was the point he was making."
Mr Farron said: "For all their words the Government are promising not much money but lots of words. People in these areas labelled as 'sink estates' deserve better than empty Conservative promises. This is just about political positioning, not actually working to fix the issue and enhance community cohesion."
Some questioned whether Ms Butler's comments were in tune with the Labour leader's "kinder politics", questioned whether her comments rang true.