We always knew Adele's Carpool Karaoke was going to be a bit of an event, but nothing could have prepared us for the scale of just how amazing she'd be when she joined James Corden in his motor.
And what with Adele being the biggest singer on the planet, she didn't even have to fly to LA to escort James to work.
So instead of James cruising round the palm tree-lined, sunny streets of LA, we get a rather wetter, greyer version of the popular skit (and James sitting on the left hand side of his car), as the pair drive around a typically grey London.
Well, if the mountain won't come to Muhammad…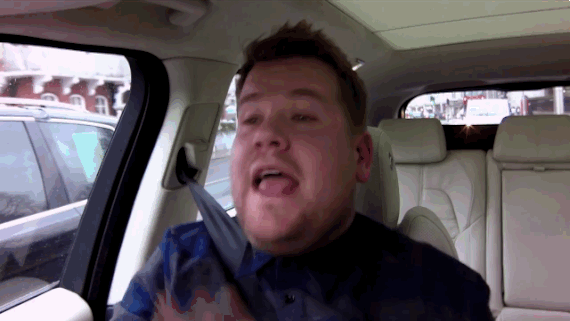 The clip opens with James on the phone to Adele, waiting to pick her up and reciting lyrics from her hit song, 'Hello'.
"It's me, I was wondering if after all these years you'd like to meet," he asks.
The Brit stars are then seen singing and bopping along to some of Adele's biggest hits like 'Someone Like You', 'Rolling In The Deep' and 'Hello', while the singer also discusses her forthcoming tour, getting drunk and her fabulous new hair.
But nothing could have prepared us for Adele killing the Spice Girls' 'Wannabe' and showing off her rapping skills during the skit, which aired on Wednesday during his US talk show, 'The Late, Late Show'.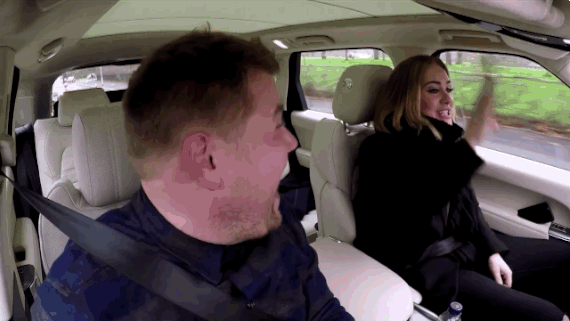 Adele joins a long list of A-list stars to have taken a spin with James as part of his Carpool Karaoke sketches, such as Mariah Carey, Stevie Wonder and Justin Bieber, who enjoyed it so much he came back for a second go.
Meanwhile, Adele is set to kick off her world tour in Belfast at the end of next month, off the back of her monster hit album, '25'.
She'll be playing dates all over the UK, before hitting the road around Europe, and eventually arriving in States in the summer.
Watch Adele and James' Carpool Karaoke in full in the video below...
Popular in the Community