Miscarriage - the insensitive things people say

95% of women who had a miscarriage told us they had heard these well-meaning but hurtful phrases from family and friends. Help us change the way people see miscarriage by supporting our campaign and new miscarriage research centre www.tommys.org/misCOURAGE #misCOURAGE

Posted by Tommy's on Tuesday, 12 January 2016
One in four pregnancies end in miscarriage, yet many women who suffer the loss of an unborn child feel that others don't know what to say to them.
In fact, research by the charity Tommy's found that more than a third of women who have had a miscarriage were hurt by the "well-meaning" comments they received from others.
As part of their #misCOURAGE campaign - which encourages those who have suffered a miscarriage to talk about their experience - the charity has created a short film detailing some of the comments people receive all too often.
In a poll of more than 6,000 women who have experienced miscarriage, an alarming 84% were told "it wasn't meant to be".
Other common comments women found hurtful included: "At least it happened early", "they'll be plenty more chances", "at least you can get pregnant" and "it happened for a reason".
Tommy's created the video (featured above) in November, but the campaign has gained momentum after the clip was shared on Facebook earlier this week.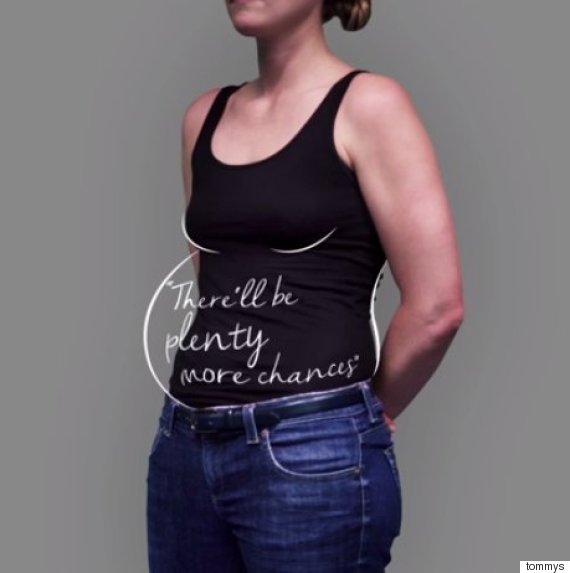 Commenting ahead of the video's release, Rosie Houston, who has experienced four miscarriages, told Tommy's she often felt frustrated by people's responses.
"People lose their parents but you'd never respond with 'It happens'. Losing a baby at any stage of pregnancy is traumatic and all you really want to hear is 'I'm so sorry,',"she said.
Emma Benjamin, who has lost five babies through miscarriage, added: "I've always been quite open about my miscarriages. I felt so confused and isolated and thought sharing my experience might make another woman feel less so.
"In the beginning I felt such a sense of failure, like it must be my fault. I believe that's a big part of the reason that women don't talk about miscarriage, it feels almost a source of shame."
SEE ALSO:

Why We Need To Talk About Men After Miscarriage
By opening up discussion, the #misCOURAGE campaign aims to develop public understanding on the issue of miscarriage and limit the amount of unintentionally insensitive comments women receive.
Tommy's CEO, Jane Brewin, commented: "The silence that surrounds miscarriage makes it difficult for women to be open about the wide range of reactions that they might be experiencing.
"Silence creates an implicit assumption that all women feel the same – but there might a wide range of subtle feelings and experiences that depend on circumstances.
"We hope that by encouraging women to speak about their miscarriages, we can move to a deeper understanding of their experiences which will in turn make it much easier for us to engage in research."
For information and support on miscarriage visit Tommy's website here. Alternatively visit the Miscarriage Association website here or call their helpline on 01924 200 799.