'Celebrity Big Brother' fans have called for Megan McKenna to be removed from the house, following her outburst about Tiffany Pollard.
READ MORE:
The 'Ex On The Beach' star branded her housemate a "ghetto c*nt" in an violent Diary Room outburst on Thursday (15 January) night's show, which saw security guards storm the house.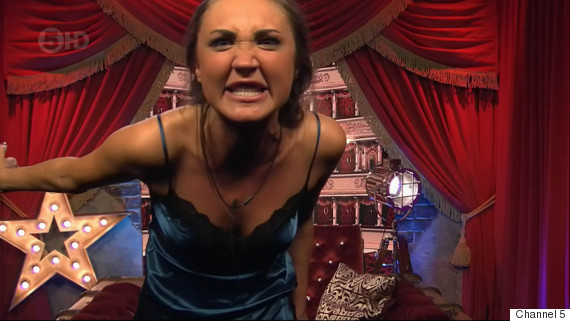 Megan McKenna had a meltdown in the Diary Room
The comment came after Megan had a furious showdown with the 'Flavor Of Love' star, during which she was called to the Diary Room to cool down.
However, as her rant continued she made the controversial comment, with some viewers accusing her of racism and calling for 'CBB' bosses to throw her out of TV compound.
I Feel Megan Should Be Removed From The House For That 'Ghetto' Comment 😒😒😒😒 #CBB

— (M)ISTA (P)RINCE (@ImDatPrince) January 14, 2016
I hope Megan is pulled up for her racist comment tomorrow too. #cbb

— Jåk (@JakBerLon) January 14, 2016
GHETTO??????? I am offended on behalf of Tiffany and I want Megan removed from the house. #CBB

— ㅤㅤㅤㅤㅤㅤㅤㅤㅤㅤㅤㅤ (@CcLDN_) January 14, 2016
Oh Megan I was with you until you called her ghetto. #cbbuk #cbbmegan

— Nedra, Texas Ranger (@nedralovesme) January 15, 2016
....a "ghetto" c***t...okay Megan,I was backing you until that moment,cos we all know what you REALLY wanted to say. LONG SIGH. #CBB

— Clara Amfo (@claraamfo) January 14, 2016
So Megan gets to get off calling @TiffanyPollard ghetto. Privilege at its finest. I'm so done with them. #CBBUK #CBB pic.twitter.com/tBJGPgYrai

— Elijah Mercer (@J_AlPrufrock) January 15, 2016
Right howay then @bbuk is Megan getting reprimanded for calling Tiffany a 'ghetto cunt' or what?

— Silly Old Daniel (@sillyolddaniel) January 14, 2016
@bbuk Megan should be removed! Disgusting behaviour

— Pauline Neil Masson (@Pmasson3010Neil) January 14, 2016
Surely Megan needs to be removed from the house. People have been booted out for less. Something is clearly wrong with her. #CBB #cbbmegan

— Stubbsisgo (@Stubbsisgo) January 14, 2016
I'm at home and Megan is frightening me. I'd like her removed please. @bbuk @BBUKLive

— Ashley (@XanSpence) January 14, 2016
While Megan has remained in the house following her outburst, she has been reprimanded by Big Brother for her aggressive behaviour.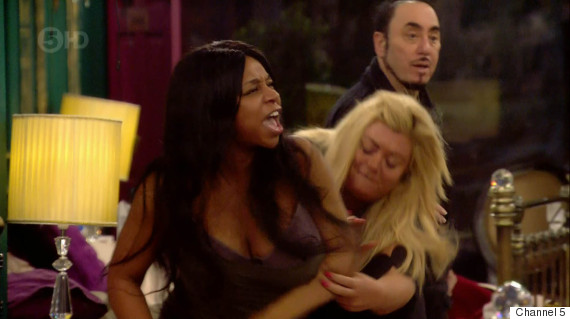 Tiffany Pollard squared up to Megan
A tweet sent from the show's official Twitter account confirmed that she had been issued a formal warning.
Megan received a formal warning this morning for her behaviour last night. #CBBBOTS

— Big Brother UK (@bbuk) January 14, 2016
Viewers can expect to see the fallout from the argument on tonight's episode, which will also see one housemate leave in the second eviction of the series.
Gemma Collins, Nancy Dell'Olio, Stephanie Davis, Jeremy McConnell Cooke and Angie Bowie all face the chop, with Nancy pegged as the bookies' favourite to leave.
Find out who goes on 'Celebrity Big Brother', tonight at 9pm on Channel 5.
MORE 'CELEBRITY BIG BROTHER':
LIKE US ON FACEBOOK | FOLLOW US ON TWITTER