A clip from 'The Simpsons' featuring two artistic heavyweights who died this week has resurfaced online, prompting jubilant outpourings from fans.
It hails from 2013 in an episode called 'Love is a Many-Splintered Thing', and sees Bart trying to impress a lady by watching 'Love, Indubitably', a nod to Christmas classic 'Love Actually'.
In the parody film Bart watches, a Hugh Grant-version of the Prime Minister, who is voiced by Benedict Cumberbatch, proclaims his love for a lower class lady named Eliza Commonbottom.
The two kiss, and a Pandora's box of silly British pop cultural references is opened, which includes one of Rickman's most famed portrayals, Snape (whom Cumberbatch also voiced), and a Bowie-penned song 'All the Young Dudes'.
Oh, and there's a 'Doctor Who' reference in the form of a TARDIS for good measure too - obviously.
Programme creators also posted another Bowie-Simpsons mashup on the day it was revealed he ha died of cancer.
It featured a bowed-headed Homer with a lightning bolt across his face and Bowie's distinctive hairstyle moddled on the cover of his sixth album 'Aladdin Sane'.
We'll leave you to enjoy the tribute video!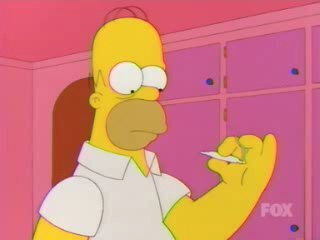 Most Controversial 'Simpsons' Moments