The BBC has teamed up with BuzzFeed News for a landmark investigation exposing evidence of tennis match-fixing, in a media move which has both excited and baffled commenters.
The BBC's own James Allen thought the partnership had "gotta be a first" for the decades-old broadcaster and the digital-born platform, but in fact it's not the first time they have formed what would appear to be an unlikely alliance.
In 2015, BuzzFeed worked with BBC Newsnight for an investigation which revealed the pressures on the charity Kids Company, starting one of the biggest charity scandals of the last decade.
At the time, the Evening Standard's Londoner's Diary gossip section called the two organisations "curious bedfellows".
"BuzzFeed, as any bored office worker knows, is a mine of listacles and cat pics," it noted, "but over the past year it has been on a mission to toughen up its news offering."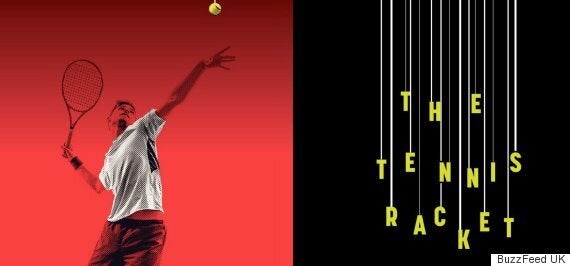 Like many online success stories, BuzzFeed is now known for its serious news coverage just as much as its lists, last year hiring Heidi Blake, the former Sunday Times assistant editor, who won awards for uncovering allegations of bribery surrounding Qatar's bid for the 2022 Fifa World Cup.
Blake was just one of a series of heavyweight hires from more traditional media groups in the past year, which also included former Guardian deputy editor Janine Gibson, now Editor-In-Chief of BuzzFeed UK, Panorama journalist Jane Bradley, Guardian special projects editor James Ball and Sunday Times journalist Michael Gillard, who unmasked the powerful London crime boss Dave Hunt in 2013.
The Evening Standard piece mused on whether BuzzFeed's partnership with the BBC could "signify a new media axis" but the relationship isn't necessarily an easy partnership.
In an age when older media players still set the news agenda, but digital operations like The Huffington Post and Vice are growing rapidly and engaging younger audiences, the BBC and BuzzFeed have been less than friendly to each other.
Meanwhile the BBC pondered whether the existence of BuzzFeed means the 'death' of news. "If that is the future of journalism, heaven help us all," a BBC news piece said in 2013, lamenting the headlines like 'This Baby Elephant Being Reunited With His Dad is The Cutest Thing You'll See Today' and '9 celebrity tweets you missed today' that BuzzFeed and its siblings have become known for.
But in fact, established players and up-and-coming publishers have a lot to offer each other.
"Not surprisingly in these sorts of partnerships, there are benefits for both parties," Jonathan Hewett, the Director of Interactive and Newspaper Journalism at City University tells The Huffington Post UK.
Hewett says for BuzzFeed, the benefits are perhaps obvious: it gets the brand boost associated with Britain's beloved broadcaster. "[Investigations] are not what BuzzFeed is best known for," he Hewett, "and that's probably part of the reason for them partnering with the BBC.
"It gets them credibility and exposure as a serious journalism operation, not merely an organistion that's know for doing 15 things you didn't know your cat could do, or similar."
But nimble publishers with digital skills have something to offer to the big boys too, Dominic Ponsford, the editor of media publication Press Gazette tells HuffPost UK.
"I think the BBC get a lot out of it because they're getting some good exclusives, and the BBC doesn't really break an awful lot of exclusives considering how big it is. It's more of a broadcaster of record in a way and naturally cautious, perhaps."
"For BuzzFeed, it's good for them to be associated with such a good brand as the BBC, and also it means that the story maybe gets more traction than it would otherwise because people see the BBC's name on it and then they immediately trust it."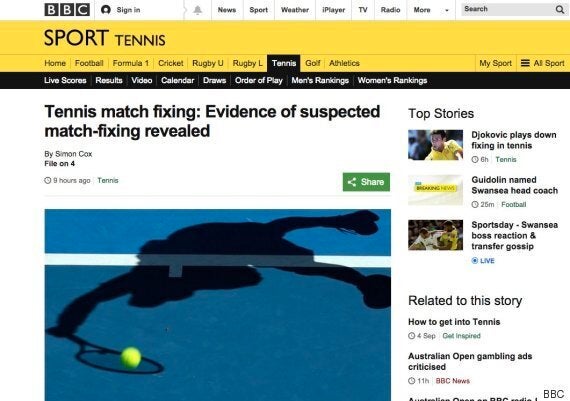 BuzzFeed contributed intensive data analysis to the tennis match-fixing story, says Hewett. "There aren't many people who can do that, or who can dedicate the time to do that."
The BBC - not short on resources - could have done the investigation work, but teaming up with another publisher may have made more sense, Hewett says: "It was probably attractive for them to bring someone on because it was a massive scale thing."
"They were collecting odds on more than 26,000 tennis matches I think, over a six year period, from seven different bookmakers. They did a simulation that they ran more than 1 million times per player, and involved some professors of statistics from two universities."
And for the broadcaster, partnering for a special project could have made sense economically too. "The BBC has been very much under financial pressure recently, [they have to consider] value for money so [this investigation means] they can say they partnered with someone to get better results for no more money," says Hewett.
Both can share the increased audience reach of their combined platforms, too. "The BBC is traditionally strong in radio and TV, it's been all over their news broadcasts. BuzzFeed I'm sure will be getting lots of hits online from it."
But behind the scenes, it may be that the BBC secretly craves the success that operations like BuzzFeed have has in attracting younger audiences.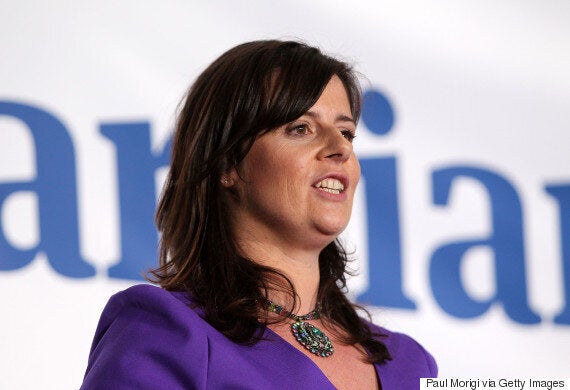 Gibson, the Guardian's ex-Deputy Editor, now Editor-In-Chief of BuzzFeed UK
Investigative journalism lends itself to collaborations, explains Hewett: "Lots of investigative work is painstaking, it takes a long time, its resource intensive, and with some big stories it is international, so you need to involve different organisations around the world."
"You quite often see broadcasters partnering with newspapers for investigations – Dispatches and Panorama often do joint investigations," says Ponsford.
The Bureau of Investigative Journalism, a not-for-profit which shares its findings for free, often works with others and the International Consortium of Investigative Journalists is a global network of 185 reporters in more than 65 countries who collaborate on in-depth pieces.
Ponsford thinks partnerships between journalists usually rise above any organisational rivalries: "As far as they've concerned they are professionals who have got the same goal in sight that's mutually beneficial."
In fact, Hewett thinks that's possible that 'new' media outlets could one day reach the notoriety of 'old' players with traditional origins, like newspapers or the BBC, but he believes it's more likely that the two will become indistinguishable as they each evolve to take on the best characteristics of the other.
"I suppose the differentiation between new and old media, if you like, is disappearing," he says. "The BBC does a lot of might be called new media, like cutting-edge work online and on social media."
Ponsford expects to more collaborations between digital and traditional media, but "only where don't really directly compete".
He notes that although the BBC and BuzzFeed compete for online traffic, they don't compete commercially because of the BBC's not-for-profit model. "Obviously the BBC's non-commercial, so I guess you can see why that works. I'd probably be surprised to see BuzzFeed partner with, say, the Guardian or the Telegraph, because online they are basically competing with each other for advertising."