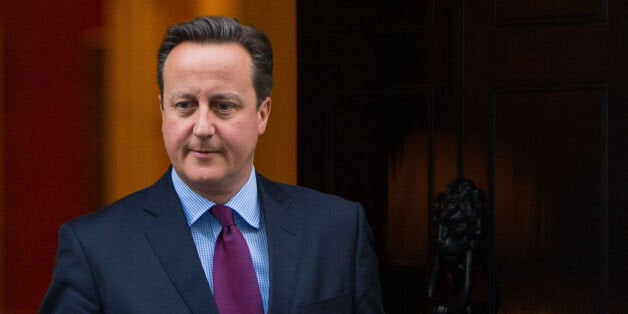 David Cameron clashed with a BBC Radio 4 Today programme presenter this morning over the broadcaster's policy of using the term 'Islamic State' rather than 'Daesh'.
The BBC has been under pressure to adopt the term 'Daesh' rather than 'Islamic State', 'Isis' or 'Isil' as some say it helps draw a distinction between Islam as a religion and the militant group.
In an interview with Sarah Montague, the prime minister announced immigrants would have to demonstrate they were improving their English language skills after being in the country for two-and-a-half years or face being deported.
"I'm not saying there is some sort of causal connection between not speaking English and becoming an extremist, of course not, that would be a ridiculous thing to say," he said.
"But if you're not able to speak English, not able to integrate, you might find therefore, you have challenges understanding what your identity is and therefore you could be more susceptible to the extremist message from Daesh."
And he criticised the BBC: "Muslim families around the country would have held their heads in despair this morning when, once again, you just called it 'Islamic State', you didn't even say 'so-called Islamic State' it's so important this."
Montegue told Cameron to "take that up with the upper echelons of the BBC" rather than with her. Cameron said he would do as she suggested. "Well I will," he said.
A spokesperson for the BBC told The Huffington Post UK: "The BBC uses the name the group itself uses, using additional descriptions to help make it clear we are referring to the group as they refer to themselves, such as 'so-called Islamic State' or 'Islamic State group'."
In December, as he set out the case for RAF airstrikes against Isis in Syria, Cameron said he would use the term 'Daesh' rather than 'Isis' or 'Isil' as he previously had done.
Speaking to Today, Cameron said women who come to the UK to join husbands will face tests after two and a half years - with failure meaning "they can't guarantee they will be able to stay" even if they have children.
"You have to be able to speak a basic level of English now to come into the country as a husband or a wife," he said.
"We have made that change already and we are now going to toughen that up so halfway through the five-year spousal settlement programme, there will be another opportunity to make sure your English is improving. You can't guarantee you will be able to stay if you are not improving your language.
"It is tough. But in the end it is not enough just to say the government is going to spend more money and it is our responsibility. People coming to our country, they have responsibilities too."
He said: "I am not blaming the people who can't speak English. Some of these people have come to our country from quite patriarchal societies where perhaps the menfolk haven't wanted them to learn English, haven't wanted them to integrate.
"Where there is segregation, it is holding people back, it is not in tune with British values and it needs to go. We need to be more assertive."
Andy Burnhham, Labour's shadow home secretary, said: "Cameron's simplistic, headline-driven approach to extremism risks unfairly stigmatising a whole community, thereby making the problem worse."
Popular in the Community