David Cameron has been accused of conflating education with radicalisation after announcing a £20m fund to improve the English skills of Muslim women.
While a number of Muslim commentators welcomed moves to empower and educate women, they also warned the government was confusing two different issues when it came to extremism.
Mohammed Shafiq, chief executive of the Ramadhan Foundation, said: "There are three million Muslims in this country and the Prime Minister chooses to focus on a very small minority of extremists when clearly the majority of British Muslims reject extremism.
"The Ramadhan Foundation has been clear for many years that we face an increased risk from terrorism and an ideology of hatred.
"The best way to confront it is to build support within Muslims and support the work done across the country, and not lashing out and denigrating Muslims."
Speaking after David Cameron announced a new £20 million fund to teach women English, a number of Muslims have discussed both the positive and negative implications of his proposals.
The prime minister signalled that he sees a link between isolation of mothers and Islamist extremism, and suggested Muslim women who fail to improve their English language skills could be deported as not speaking the language adequately could make people "more susceptible".
One the one hand, many commented that learning English could open up more opportunities for women and help them to gain confidence.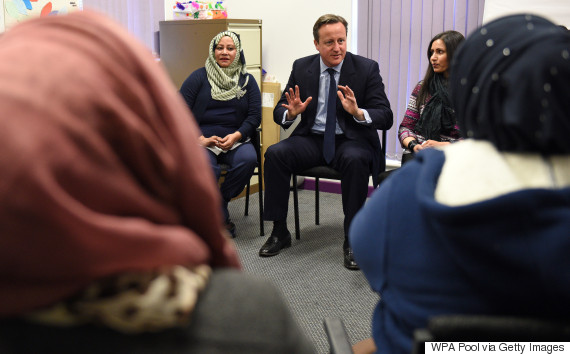 David Cameron has been warned against conflating speaking English and radicalisation
Zubeda Limbada, founding director of anti-extremism think tank Connect Justice, told BBC Radio 4's Today programme: "If David Cameron's ultimate goal here is to champion disempowered women to learn English to take part in matters affecting their lives and addressing segregation then of course I welcome it, particularly as a woman. I feel that this isn't just a Muslim woman's issue, it affects all of us.
"The problem with the headline is that he's framing this in the context of extremism, so it's not only incorrect when you conflate segregation, gender rights, social mobility within the purview of extremism but there's also no link between the evidence that any of the 700 cases of extremism, of people going to Isis and to Syria could have been stopped if their mothers had spoken English or learnt English. There simply is no evidence.
"It sometimes feels like the government is lacking practical ideas when it comes to tackling extremism as well."
Anjum Anwar, chair of charity Woman's Voices, echoed Limbada's views adding that she was concerned about the links being made speaking English and radicalisation.
She said: "As a teacher I am passionate about funding for education but to conflate it with radicalisation is unacceptable."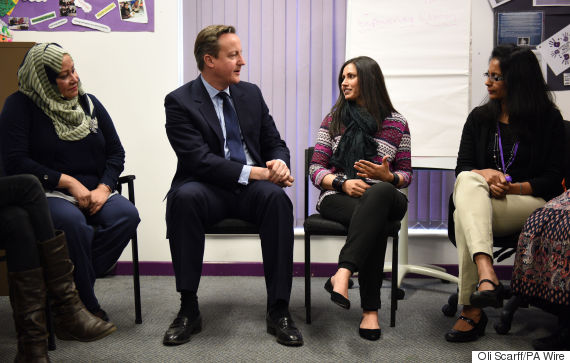 Cameron speaks with women learning English
She added: "What I find absolutely amazing is the fact that the prime minister could even allude to the fact that women who don't speak English may have some influence and cause issues with radicalisation. "
Shuja Shafi, secretary general of the Muslim Council of Britain, said: "The Prime Minister is absolutely right in wanting English to be taught more widely.
"Mosques and Muslim civil society would be eager to play their part by hosting English language classes, as many mosques do.
"But the Prime Minister's aim to have English more widely spoken and for better integration falls at the first hurdle if he is to link it to security and single out Muslim women to illustrate his point."
SEE ALSO:
When asked if she felt that Muslims were being demonised over the issues, Anwar added: "Absolutely, and it really irritates me that this can be done so blatantly. Of course there are issues within every community and women must be empowered, in fact as a Muslim woman the first thing that I learned from my own mother was you are the first university of your child, so you must be educated. Educated doesn't just mean having a PhD in English language, it means understanding your communities, understanding how you can contribute and having the language to be able to contribute."
Fiyaz Mughal, founder and director of Faith Matters, welcomed the offer of support in helping women - particularly older Muslim women - to learn English.
He told The Huffington Post UK: "Ensuring that everyone has the ability to speak the language of the country is essential for integration, raising income levels and making people feel confident about themselves and their abilities.
"It also helps women and others to be able to understand the potential risks regarding safeguarding to their families, though we also need to acknowledge the fact that gaining employment also has many hurdles for people from Black and Minority ethnic communities and this also needs to be acknowledged. Many Muslims feel that they are unable to get employment because of their names when they apply and this cannot be casually disregarded given the depth of feeling in Muslim communities.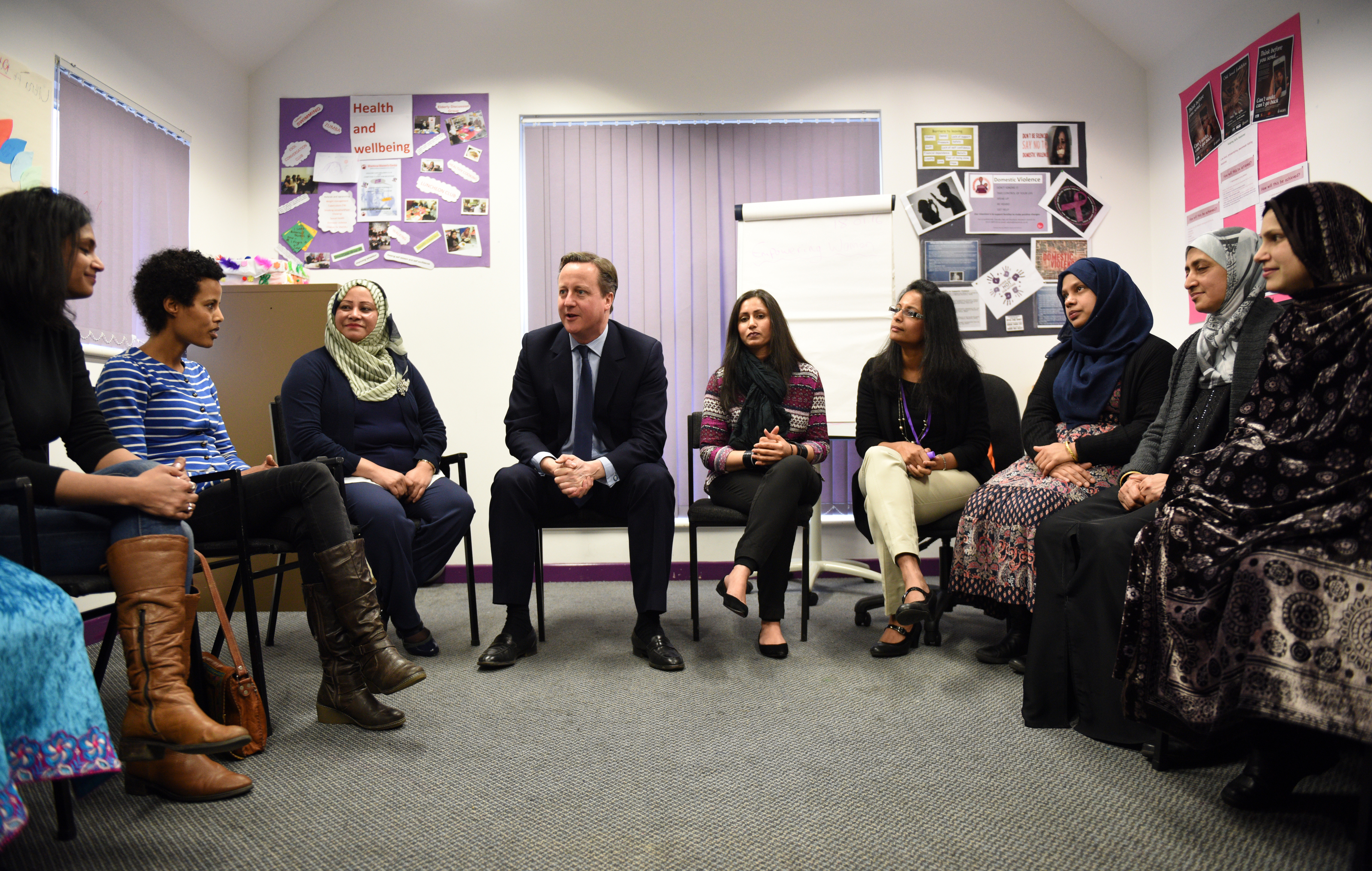 David Cameron speaks with women attending an English language class in Leeds
"The issue of the inability to speak English mainly affects women over the age of 50 and from those who have migrated from countries like Somalia and from Pakistan and Bangladesh. Learning English will help reduce the reliance of these women on their children and maybe give them more confidence. This is to be welcomed.
"However, it's primary impact will be this and to overplay that it will help with extremism, is slightly overblown.
"Saying that, it helps the overall wellbeing of a person to be able to engage and converse with others in communities and we welcome this support."
Cameron told Today people growing up in a house where no-one speaks English are "less able to talk to the school, less able to communicate with a local GP".
He continued: "I am not saying there is some sort of causal connection between not speaking English and becoming an extremist, of course not. That would be a ridiculous thing to say.
"But if you are not able to speak English, not able to integrate, you may find therefore you have challenges understanding what your identity is and therefore you could be more susceptible to the extremist message."
He added that women who come to the UK to join husbands will face tests after two and a half years - with failure meaning "they can't guarantee they will be able to stay" even if they have children.
Labour's Shadow Home Secretary Andy Burnham said the Prime Minister was "unfairly stigmatising a whole community".
He said: said: "In his desire to grab easy headlines, David Cameron risks doing more harm than good.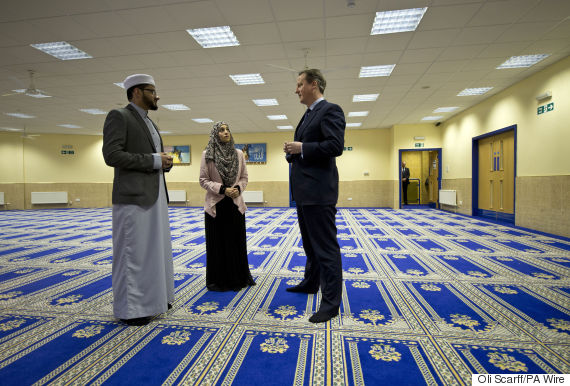 Cameron talks to Imam Qari Asim (left), and Shabana Muneer, a member of Makkah Masjid Mosque's women's group
"His clumsy and simplistic approach to challenging extremism is unfairly stigmatising a whole community. There is a real danger that it could end up driving further radicalisation, rather than tackling it."
Lady Warsi, the former Tory chairman who was the first female Muslim Cabinet minister, welcomed the new money for language teaching, claiming it had been a mistake to cut funding for English tuition while she was in government, the Press Association reported.
But she condemned the way the measure had been announced: "This lazy and misguided linking, and what I saw once again as stereotyping of British Muslim communities, I felt took away from what was a positive announcement."
She told BBC Radio 4's World at One: "My parents came to this country with very little English - my mum's English still isn't great, even though she has been to English language classes.
"They didn't necessarily identify with a Western culture but they absolutely had the right values to bring up five girls, make sure that they were educated and made a contribution to British society.
"So I think it is lazy and sloppy when we start making policies based on stereotypes which do badly stigmatise communities."
She added: "What we should be saying to women is, 'we will give you every opportunity to learn, we will encourage you, support you, that it is a requirement for you to obtain British citizenship'.
"But I think to threaten women and say to them that 'unless you are of X standard we will send you back, even if you have children in the UK who are British and your spouse is British' is, for me, a very unusual way of empowering and emboldening women."