Prison officers are falling ill after inhaling "legal highs" used by inmates and have had to seek hospital treatment for "crushing" chest pains and dizziness, union bosses have claimed.
Guards have fallen ill, suffering the effects of breathing in the fumes of new psychoactive substances (NPS) such as Spice and Black Mamba, which mimic the effects of cannabis, according to the Prison Officers Association.
In one incident last week, seven officers reported suffering ill effects, the Press Association reported.
Steve Gillan, general secretary of the union, said they were searching a cell when they came across a large quantity of NPS.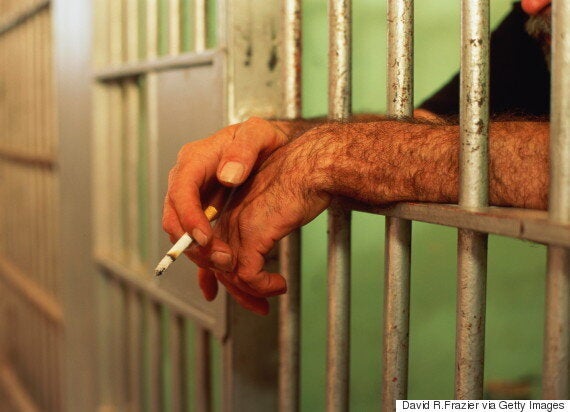 Prison officers are falling ill after inhaling inmates' legal highs, union bosses have claimed
"They all then complained of nausea. They were seen by the healthcare department and signed off duty," he said.
Anonymous accounts from officers laid bare the impact of NPSs. One described noticing a "sweet smell" and "smoky atmosphere" before starting to feel unwell, saying his heart was racing and his head felt like it would "pop". The officer could not remember his journey home.
Another officer experienced a "crushing" chest pain and dizziness followed by what felt like a severe hangover.
The prisons watchdog has warned that NPSs are the most serious threat to the safety and security of jails.
Last month, it emerged that the rampant use of the drugs behind bars is placing local ambulance services under strain as paramedics are increasingly called out to tend to criminals who have used them.
The substances have been linked to rising levels of violence and 19 deaths behind bars.
Gillan said: "This is causing that sort of concern for prisoners and we are extremely concerned about the effects they have on officers as well."
A Prisons Service spokeswoman said: "Governors use sniffer dogs, cell searches and mandatory drugs tests to find drugs in prison and punish those responsible.
"We have also passed laws so that people who smuggle packages over prison walls, including drugs, face up to two years in prison.
"However, it's clear we need to do more. The Justice Secretary has asked the Ministry of Justice to look at how we can ensure prisons have the right tools in place to tackle this problem."
The association is also launching a judicial review in an attempt to speed up a blanket ban on smoking in prisons.
In September, the Government announced that smoking will be prohibited in all Welsh prisons and four in England to reduce health risks in a move seen as the first step towards all jails becoming smoke-free.
The association is calling for a "clear timetable that will ban smoking totally in every prison establishment".
A Prisons Service spokeswoman said: "We have long been committed to a smoke-free prison estate. Implementation will be phased over a long period in order to make these changes safely."
Prisoners will have access to e-cigarettes and other support to stop smoking, she said.
The spokeswoman added: "Our careful approach will ensure prison officers and inmates are no longer exposed to second-hand smoke, while not compromising the safety and security of our prisons."