Newcastle United fans and Twitter users have turned a marketing stunt by Sports Direct into a brilliant initiative to keep homeless people warm this winter.
Mike Ashley - owner of both the football club and the sports chain - pledged to give away £2.4m worth of EverLast jackets after they beat West Ham 2-1 at the weekend.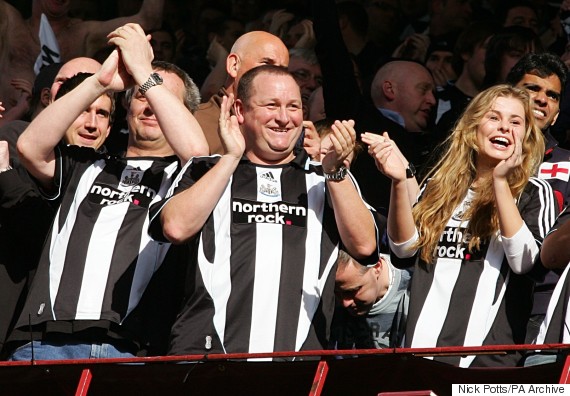 Mike Ashley (centre)
A Sports Direct spokesman said: "Mike knows that customers love our crazy prices and great giveaways so he's decided to go the extra mile to get everybody behind the team."
A social media campaign soon grew off the back of the offer urging people to claim the coats and then give them to a homeless person in need during the cold weather.
Let's register and if by some miracle we win, we donate to a homeless person? #NUFC Click: https://t.co/XPr2LdYxgl pic.twitter.com/IjhYlRfo8E

— The Steve (@TheMightySteve) January 15, 2016
Great effort from Newcastle fans, please check it out! #coatsforthehomeless https://t.co/q0hDCNulCf

— Top Corner (@HITCtopcorner) January 16, 2016
Last RT. Great idea. Get a coat off FM. Donate to a homeless charity,or similar. Just done it myself. Works a treat. #CoatsForTheHomeless

— Craig Cornforth. (@boyceyoh) January 17, 2016
Coming to a homeless person near you soon! 👍

#NUFC pic.twitter.com/IBiR3HmqYT

— Rossy Roo (@rossington_bear) January 16, 2016
The jackets on offer appear to have sold out quickly but not before a few had been nabbed for the campaign.
Stephen Farrell, 30, told The Huffington Post UK: "Even if a small percentage go to homeless people then that's fantastic.
"Basically it could save a life."
Ali Amir, 20, from Cardiff was one of those who managed to buy one.
This isn't a scam. Get a free jacket from sports direct and give it to someone homeless 👍👍

https://t.co/CD9czTigLU pic.twitter.com/15igymxthi

— Nutella (@AliAmir21) January 17, 2016
He told The Huffington Post UK: "I bought one and a few of my friends bought some.
"Our plan is to go out and give them to homeless people we see all over the city.
"I'm a Muslim and it's our duty to help others. They don't deserve to be out there."
Ashley will face MPs soon over working conditions at Sports Direct.
Guardian undercover reporters revealed last month how workers at the billionaire's company effectively work for less than minimum wage.
Ashley is the 10th richest person in the UK with an estimated net worth of £2.44 billion.
Sports Direct have been contacted for comment.