The parents of Britain's biggest family have announced they are expecting their 19th child.
Sue Radford, 40, and husband Noel, 45, who rose to fame on the TV show 16 Kids And Counting, said the pregnancy was a "shock" , but they are thrilled to be having another baby.
The mum-of-18 told The Sun: "It has come as a huge surprise. We were adamant that we wouldn't have more. But it is a brilliant start to the New Year."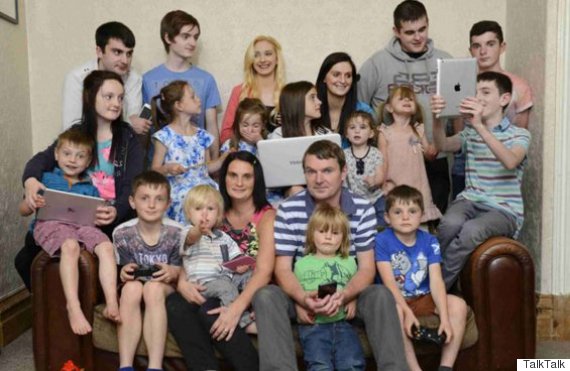 The Radford Family in 2015
Writing about the news on Facebook, Mrs Radford said: "We are so thrilled to announce our precious new addition to the family who will be joining us in July."
The mum also shared her news on the family blog, explaining how she told her children they were expecting baby number 19.
She wrote: "We decided to put the scan photo on the fireplace and sit back and watch to see who noticed it first.
"It really didn't take long - Tillie spotted it first and said 'ohhhh who's that' with a big grin on her face, we said 'who do you think it is'.
"The reaction was so funny they are so excited."
In June 2015, Radford gave birth to her 18th child - Hallie Alphia Beau. She wrote on her blog that she was "relieved" after she gave birth because she had felt very anxious during the pregnancy.
Mrs Radford suffered a miscarriage in September 2013. She became pregnant again in 2014, but the baby was born stillborn in July.
The couple are parents to Chris, 26, Sophie, 22, Chloe, 20, Jack, 18, Daniel, 16, Luke, 15, Millie, 14, Katie, 13, James, 12, Ellie, 10, Aimee, nine, Josh, eight, Max, seven, Tillie, five, Oscar, four, Casper, three and Hallie, eight months.
SEE ALSO:

The Radford Family: Life With Britain's Biggest Family

The Radford Family Expecting Another Baby

Having A Large Family Cuts Mother's Stroke Risk By Half, Says Study