The British anti-terrorism law used to seize journalistic material about Edward Snowden's surveillance revelations breaches human rights law, a judge has said in a landmark case.
Lord Dyson's judgment relates to the detention of David Miranda, the partner of Guardian journalist Glenn Greenwald who reported on the Snowden story. He was stopped at Heathrow in 2013, held for nine hours and had electronic devices carrying encrypted data confiscated.
Though the judge decided that the stop of Miranda had been lawful, he said on Tuesday that the power under Schedule 7 of the Terrorism Act to stop people entering Britain at ports and seize data and documents lacked safeguards to prevent its arbitrary use against journalists.
He also rejected an earlier court's ruling that the threatened disclosure of the information Miranda was carrying met the legal definition of terrorism.
Miranda tweeted "journalism isn't terrorism" in response to the news.
Thrilled with the court ruling! My purpose was to show UK's terrorism

law violates press freedoms. And journalism isn't "terrorism." We won!

— David Miranda (@davidmirandario) January 19, 2016
Human rights group Liberty, which brought the case before the court, called the judgment "landmark" and a "major victory for the free press".
Rosie Brighouse, Legal Officer for Liberty, said: "Schedule 7 has been a blot on our legal landscape for years – breathtakingly broad and intrusive, ripe for discrimination, routinely misused. Its repeal is long overdue.
"It is also a timely reminder of how crucial the Human Rights Act is for protecting journalists' rights. Once again it has come to the rescue of press freedom in the face of arbitrary abuse of power by the State."
When Miranda was stopped, he was questioned without a lawyer.
He was helping the work of Greenwald, who had recently written several stories about the Snowden surveillance revelations for The Guardian.
Greenwald tweeted it was a "big win", highlighting a section of the judgment that said the law "breached the basic rights of journalists".
Key points from the UK court of appeals ruling in @davidmirandario case pic.twitter.com/Xm3pSZpAL1

— Glenn Greenwald (@ggreenwald) January 19, 2016
"If journalists and their sources can have no expectation of confidentiality, they may decide against providing information on sensitive matters of public interest. That is why the confidentiality of such information is so important," Lord Dyson said.
He added parliament had to provide a safeguard against its arbitrary use and the most obvious form would be "some form of judicial or other independent and impartial scrutiny conducted in such a way as to protect the confidentiality in the material".
The court issued a declaration of incompatibility, which leaves it to Parliament to decide how to change the law so that it is compatible with Article 10 of the European Convention on Human Rights Act, which protects freedom of expression.
The convention is enforceable before UK courts thanks to the Human Rights Act.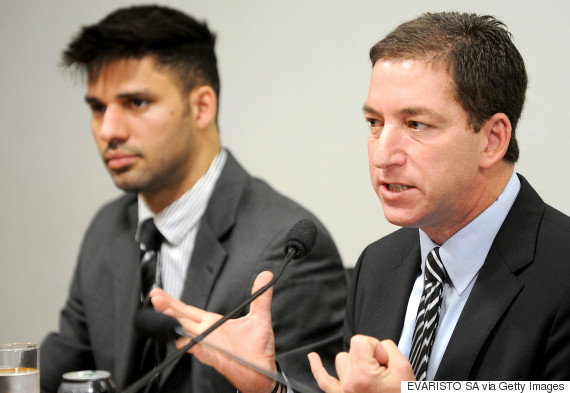 David Miranda (left) with Glenn Greenwald (right)
The security services told the police terrorism powers could be used because the information Miranda was covering was to be disclosed so as to "to influence a government, and is made for the purpose of promoting a political or ideological cause".
But Lord Dyson said he agreed with defence barristers Matthew Ryder's argument that "Parliament cannot have intended that section 1 (of The Terrorism Act) should be read to include publication of material as an 'act of terrorism'".