Pedro Fonseca was travelling from Putney Bridge to Covent Garden when he was spotted on the District Line at Fulham Broadway on Monday night.
Fonseca, accompanied by friends dressed as policemen, was on his way to a work fancy dress party.
His outfit caused alarm and an image was uploaded to Twitter by Alec Wilson, who lambasted his choice of attire, which included a large rucksack and a "fake bomb".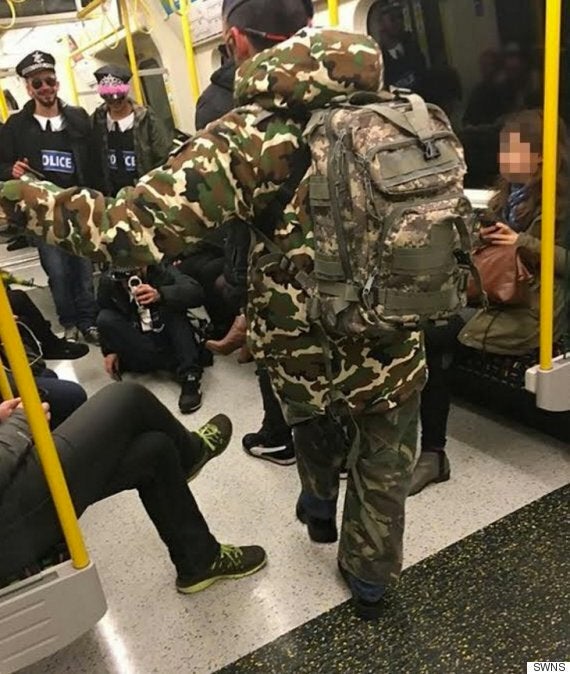 A prankster entered the London Underground dressed as a suicide bomber in a stunt which has been branded as "sick"
But Fonseca has defended his decision, explaining that it was not a fake bomb around his chest, but a "small bag" for his wallet and phone.
"Some were even asking my friends who were dressed as police to handcuff them to the the hand rails for a joke. Honestly, we didn't have any problems at all.
He said that at the work party venue, lots of people were dressed as soldiers and in camouflage "without a problem".
Wilson, 29, uploaded a picture of the scenes, labelling the group "dicks" and saying he hoped they would "get shot by the actual police".

Alec Wilson's tweet about the incident
Wilson told the Evening Standard: "I realised his weapon was plastic and that he was walking towards the 'police man' with a feather boa in his hat.
"Once I realised it was a joke I thought it was sick.
"I thought if he's the first one walking through a turnstile and a police officer calls it in, they'll be pointing automatic weapons at him."
The incident comes six months after the 10th anniversary of London's 7/7 bombings, which included three attacks on the underground.
BTP said officers were aware of the incident even though commuters did not report it.
A spokeswoman said: "It is insensitive and crass behaviour in the light of recent terrorist attacks across the world and the threat to the UK currently at severe."
"It is important for everyone to remember the need to be responsible and considerate to fellow passengers while making your journey.
"We would always encourage anyone to report anything they think is suspicious or which makes them uncomfortable to us, to allow us to establish if any further action is needed."
Popular in the Community