The five things you need to know on Wednesday January 20, 2016…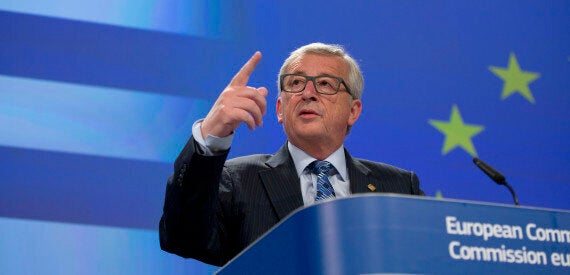 1) DUBLIN DOWN ON MIGRATION
It's PMQs day again and David Cameron will be hoping that jobless stats out at 9.30am give him some more hard evidence that his long-term economic plan (Tory whips have ensured the phrase is back) is working.
Jeremy Corbyn could well raise steel job losses and wider claims that George Osborne has been complacent about global headwinds. The JeremyCorbyn4PM Twitter account this morning claims John McDonnell is 'the People's Chancellor', while Osborne is 'the Bankers' Chancellor.
But one major headwind for the Government is of course the EU migration crisis. And the FT's splash today won't be welcome in No.10: 'Brussels Rule Change To Put Greater Burden On UK'. This is the story that the European Commission plans to scrap the so-called Dublin Rules that currently force migrants to seek asylum in the first EU country they enter.
This is a major victory for Italy and Greece as Brussels doubles down on its plan to share the burden of the Syria crisis more evenly. Britain of course opts out from the quota system, but as the FT points out we benefit from the opt-in Dublin Rules as they let us send asylum seekers back to southern Europe.
No.10 reminded us yesterday that 2,000 refugees were still entering Greece every day, even in winter. And the PM will use his Davos trip to call for more help for Jordan and other states. But the
real problem is the impact of all this on Cameron's EU referendum plans.
The sequencing isn't helpful, with the Dublin rules due to be dumped at the March council, when the PM could be at the start of his Remain campaign. Donald Tusk is demanding urgency. Will Jean-Claude Juncker (the man the PM tried to stop getting his job) help the UK in any way?
Syria continues to cause trouble for Labour. Hilary Benn last night told a Fabian foreign policy launch how he disagreed with Corbyn on talking to ISIL. "I don't think there's much to negotiate with Daesh about".
Chris Grayling's Press Gallery lunch didn't deliver any fireworks and left many hacks writing about the tumbleweed rolling by. Even though he was watched like a hawk by Craig Oliver, I understand Grayling wouldn't have said anything different even if the PM's comms chief had been absent.
The sketch writers have had a field day, with the Indy's Tom Peck pointing out that Andy McNab explains in Bravo Two Zero that captured SAS officers were trained in 'becoming the gray man', to draw no attention to themselves. "To render oneself entirely invisible and simultaneously give a twenty minute speech was admirable in its way, and not something even the SAS can teach."
Lord Lawson's mystery Cabinet leader of the Leave campaign may not be Grayling. Will it be Sajid Javid? Or Theresa May? The Telegraph had a poll yesterday showing Boris was the overwhelming choice of the public to lead the Out camp.
Meanwhile, the Sun has a big piece today revealing that Labour's biggest private donor, John Mills, has called on Jeremy Corbyn to give all his shadow ministers a free vote on whether Britain should leave the EU. Writing in the paper, Mills challenges J-Corbz to match David Cameron's recent offer to senior Tories and lift the Labour whip that compels all of its politicians to back Remain.
Anyone But Miliband. That seems to be the conclusion in Margaret Beckett's report of who was to blame for Labour's 2015 election disaster (and some seem to forget just what a disaster it was). Beckett focused on busting 'myths' such as the idea that Miliband's policies were too left-wing, and went on to say it was all the fault of a wicked media that the former leader wasn't seen as strong or credible. She even says he did well in the campaign. "One of the biggest mistakes we could make is to say it's all the fault of Ed Miliband…[it was a] much deeper problem," she told Today.
Several 'moderate' MPs are already muttering about how Beckett was always a creature of the soft left with a naivety about the hard left (she nominated Corbyn after all), and others point out that the man who wrote much of her report, KPMG's Alan Buckle, hardly had his finger on the pulse. On the Today prog, Margaret Beckett conceded "these are not just my judgments, this is a compilation" but claimed it was an accurate picture of what went wrong.
She rightly points out Labour piled up votes in safe seats but failed to get a smidgeon of Tories in the south (Scotland is even worse, with the warning that the party will need a 12.5% swing to get into power if the SNP remains strong).
Beckett also says the party failed to communicate on issues like welfare and immigration. But on Today, she insisted the main policy was right on migrants but it couldn't cope with "the simple thuggishness of the Conservative and UKIP approach" (but wasn't asked about Labour's immigration mug, sadly). She also said that no-nukes on Trident was at the more 'extreme' end of policy options.
Yesterday David Miliband personified the latest 'moderates' priority: building more innovative policy. "The responsibility of the centre-left and the responsibility of the centre-right isn't to keep on stamping our foot and saying we're right – it is to update the policy answers that we've got."
BECAUSE YOU'VE READ THIS FAR…
The Times today has some excellent exclusives (not least the red doors asylum seekers scoop). It also reports on the Health Service Journal scoop that NHS Accident and Emergency units were told by NICE to hire more nurses last year - but the government ordered the advice should not be published.
Nice's final guidance told hospitals not to draw up rotas based on the average but on a significantly higher level of attendances, it has now emerged. This would mean being short-staffed only 15 per cent of the time rather than up to half the time if using a simple average. The doctors strike is still unresolved, but if Corbyn wanted to raise the NHS at PMQs, this is a gift.
Meanwhile, the Indy has a neat angle on the Migration Advisory Committee plans to raise wages thresholds for migrant workers. Nurses have currently been exempted from the migrant cap by Theresa May to avoid a recruitment crisis, but the committee will report next month on whether the end the temporary exemption. One to watch.
5) PSYCHO KILLERS, QU'EST-CE QUE C'EST?
There's lots coming up today, not least the Lords battle over party funding and the Trade Union Bill. But in the Commons, watch for the Home Secretary leading on the Report and 3rd Reading stages of the Psychoactive Substances Bill.
Watch too for ex-Health Minister Dan Poulter and ex-Cabinet minister Peter Lilley teaming up on an amendment to re-schedule cannabis from a Schedule 1 drug to a Schedule 2 drug for the purposes of promoting research into its medical use. Lilley already achieved notoriety this week over '40 Shades of Grey'. He's no stranger to carving out his own path..
If you're reading this on the web, sign-up HERE to get the WaughZone delivered to your inbox.
Got something you want to share? Please send any stories/tips/quotes/pix/plugs/gossip to Paul Waugh (paul.waugh@huffingtonpost.com), Ned Simons (ned.simons@huffingtonpost.com), Graeme Demianyk (graeme.demianyk@huffingtonpost.com) and Owen Bennett (owen.bennett@huffingtonpost.com)