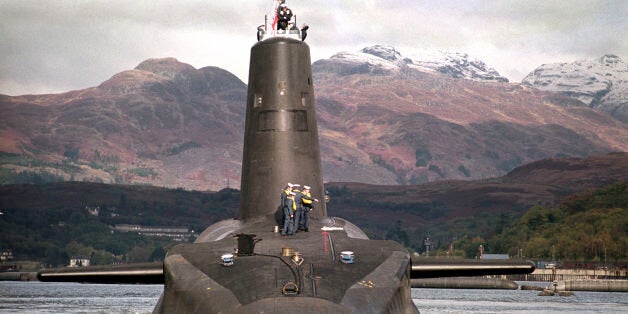 The Tory government's planned vote on Trident renewal will be purely 'symbolic' and could be reversed by a Jeremy Corbyn government, Labour sources have revealed.
In a bid to hold the party together, allies of Mr Corbyn signalled that a 'free vote' will be granted to Labour MPs should ministers bring before Parliament the 'maingate' decision on commissioning a new nuclear weapons system.
But with a policy review underway, party sources stressed that its stance on the nuclear deterrent at the next general election was being devised 'for the long term' and hinted the Commons vote may have no material impact on Labour's own defence review, due in June.
Michael Fallon is understood to be keen to fast-forward the vote by possibly as early as March, a move critics believe is designed to exploit Labour's splits on the issue.
Official Labour policy is to renew Trident at a cost of £31bn, but Mr Corbyn has said he has a mandate from his landslide leadership election to try to shift the party towards alternatives.
Allies of Mr Corbyn are determined to shift policy and believe that an early Commons vote shouldn't get in the way of the bigger battle to change the party's stance.
David Cameron repeatedly taunted the Labour leader over the issue during Prime Minister's Questions on Wednesday, picking up on his suggestion on the Andrew Marr show that he could back replacement submarines which didn't carry nuclear weapons.
The Ministry of Defence is keen on bringing forward a vote on Trident renewal – which would involve replacing four Vanguard submarines with new Successor submarines – although there is a behind-the-scenes battle over just when that decision should take place.
Some in Government want the vote to force Labour's hand early, but others say problems with procurement and finance give ministers a chance to delay the vote until after the Opposition's defence review, which could in theory dump Trident altogether.
Several Shadow Cabinet ministers have signalled they would quit if the party opted for unilateralism.
Scottish First Minister Nicola Sturgeon today tweeted suspicions that Mr Fallon wants to announce the vote will take place very soon.
But a senior Labour source said disputes between the MoD and Treasury meant the Commons vote would not be binding, and hinted that party could have a different policy by the time on any further, non-symbolic votes took place later this year or early next year.
Asked if he felt the expected Commons vote would not be 'irreversible', the source replied: "It's just the beginning of a procurement process, even if they come to that at this point, which they themselves are completely at loggerheads about and appears to be out of control. Any vote that takes place in the next couple of months is frankly only going to be a symbolic vote in any case.
"They are at sixes and sevens about how to manage this colossal expenditure and the whole procurement process around it. Anything that they bring forward in those circumstances, there's going to be a question about what it actually means."
The source added: "Even if the government heads off down a particular road, we are talking about such a long term and incredibly expensive system of renewal that I think this argument will continue in the future. It's not a simple binary choice."
"One of the issues which maybe has been underplayed…is that as compared with the debates around Trident in the early 80s, it's not necessarily a simply binary choice between Trident renewal versus complete unilateral disarmament at the other end of the spectrum.
"I think both Emily Thornberry and Jeremy Corbyn have emphasised that. We are talking actually in real life about a quite wide range of options. There's a whole range of possibly launch systems, land-based systems, sea-based systems, submarine-based systems, how many submarines, threshold nuclear power…Trident submarines and how they could be used, cruise missiles, nuclear armed, not nuclear-armed."
The Labour source also made clear that a free vote on Trident would be likely should the issue arise soon.
Asked about the whipping arrangements for the vote, they replied: "Ultimately, it is a decision for the leader, but it will take in consultation with the Shadow Cabinet and that process has already begun.
"Jeremy Corbyn has emphasised that all positions, people obviously have different views in the Labour party, as they do in other parties, as they do in the military, and that will be fully respected in any vote that takes place. There will be no reason for anyone to resign."
Not all Labour MPs were convinced that the free vote option wouldn't lead to briefing against MPs similar to that seen after the Syria vote.
In the Commons, Tory MP Karl McCartney claimed Labour had a defence policy "inspired by The Beatles' Yellow Submarine and shows that while the members opposite may Twist And Shout, their current leader certainly needs Help."
Mr Cameron replied: "There is a comic element to sending submarines to sea without missiles in, but in fact it is absolutely serious because the deterrent has been, on a cross-party basis, an absolutely key part of our defence and making sure we have got the ultimate insurance policy, which we support on this side and we should vote on in this House.
"All I can say when it comes to Beatles songs, I suspect that the leader of the opposition prefers Back In The U.S.S.R."
The Prime Minister also hit out at Mr Corbyn's call for dialogue over the future of the Falklands Islands, though Labour sources later said that he was sticking to his belief that "there should be no preconditions" to talks about ending the dispute over their sovereignty.
The source said that while the Falkland Islanders' vote on their self-determination was not in question, the issue needs to be "dealt with in a mature and modern way".
"The issue of the Falklands is in dispute, internationally as recognised by the United Nations as being the case, so it's in Britain's interest n the Falklands Islanders interest and it's in Argentina's interest for this conflict about sovereignty and the conflict about the islands to be resolved," they said.
Popular in the Community