More than 50 million Americans are being pummeled by a devastating wintery blast that has dumped several foot of snow across the eastern United States. Ten people have died so far in incidents related to the extreme weather.
In Washington and the surrounding areas a state of emergency was declared on Friday, with 8,000 flights cancelled and schools closed. The region could see drifts of more than four-feet. Weather warnings are in place from as far north as New York and as far south as Arkansas.
New York Governor Andrew Cuomo also declared a state of emergency, one of ten states suffering the brunt of the "life-threatening" conditions. On Saturday, the Big Apple was hit by winds of 60mph, with snow falling at a rate of more than three-inches per hour. The Mayor of New York, Bill De Blasio, ended all subway and bus services and ordered all traffic off the road by 2.30pm on Saturday afternoon.
In New Jersey, Governor Chris Christie, a candidate for the Republican presidential nomination, ordered people to "stay inside."
"Not only is the weather incredibly nasty but it is helping us keep roads passable," he said. "We have two to three inches falling an hour. Please stay inside, please don't drive today."
Road accidents have been reported through the eastern region, with police in Virginia responding to more than 1,000 calls overnight. Government agencies predict the weather could cause up to a billion dollars in damages.
The snowfall record in America stands at 28-inches, which fell over two days in January 1922. Forecasters warn this could be threatened, the Washington DC likely to be worst hit. The extreme conditions is a result of humid air coming up from the Gulf of Mexico, impacting cold air from the central northern states.
A further full day of snow is expected on Sunday in what meteorologist Ryan Maue described as "one of those generational events, where your parents talk about how bad it was."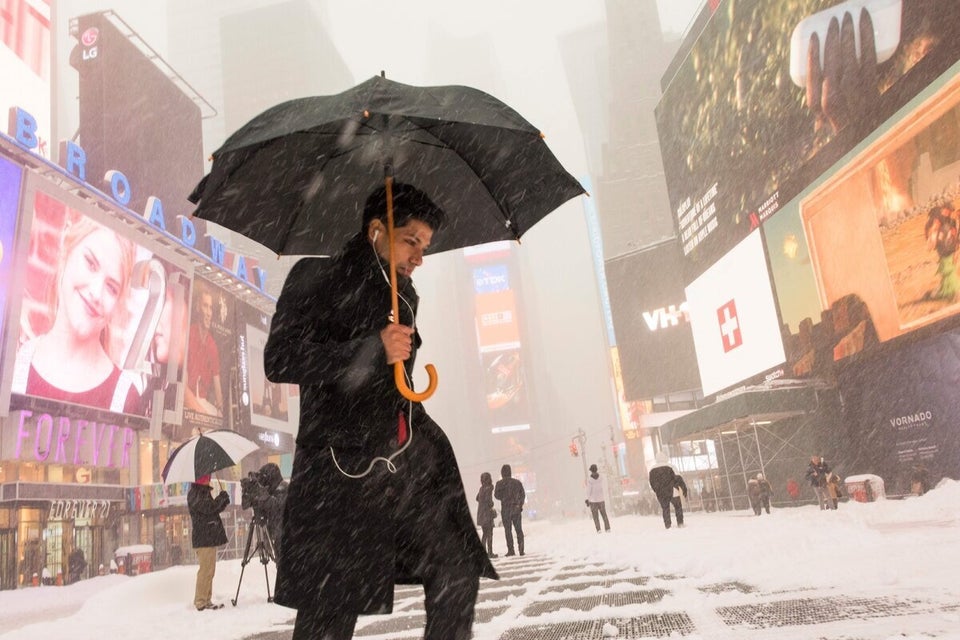 Blizzard 2016