Tina Fey has once again triumphed in the role she was born to play, taking on Sarah Palin in yet another hilarious send-up - this time ribbing her endorsement of Donald Trump.
Fey mimicked the former Alaskan governor's unique expressions during the cold open of 'Saturday Night Live', declaring: "I wanted to take a break from my full-time career of writing things on Facebook to fly down here and declare my endorsement of our next president, Donald J. Trump.
"I'm here because we Americans are struggling, so many of us have lost our jobs at the factory or reality shows about Alaska."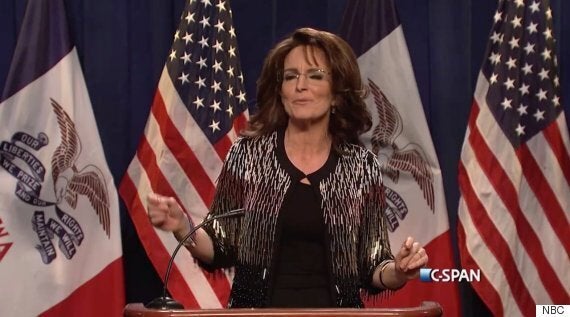 Fey's impression of Palin catapulted to comedian to worldwide fame in 2008
During Fey's impression, the sketch cuts to Darrell Hammond's brilliant Donald Trump who comments on the increasingly bizarre nature of Palin's endorsement.
"I hope nobody's allergic to nuts, 'cause we've got a big one here," Hammond says, "She's two Corinthians short of a bible."
Fey's first skit as Palin catapulted both to worldwide fame in 2008.
Fey, who departed 'SNL' to launch her sitcom '30 Rock' in 2006, isn't the only comic to make the most of this year's presidential race.
This article was amended on 25 January to reflect the fact Darrell Hammond played Donald Trump in the latest sketch, not Jimmy Fallon
Popular in the Community