MPs must be given greater protection from the public, it has been claimed, after a study found four out of five respondents had been victims of intrusive or aggressive behaviour.
Abuse has left 36 politicians afraid to go out in public, put marriages under strain and led to some being treated for depression and anxiety, experts found.
Researchers reported that 192 MPs who had experienced problems half had been targeted in their own homes.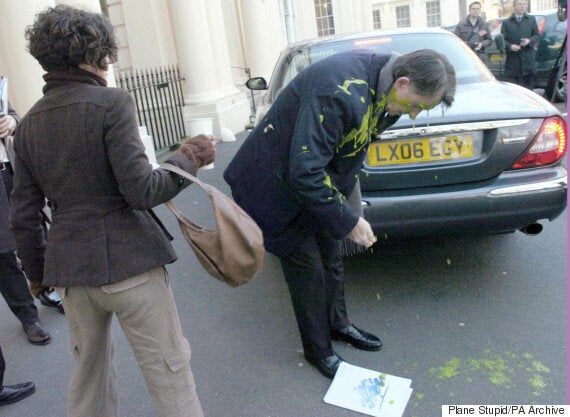 Business Secretary Lord Mandelson after a cup of green custard was thrown over him by environmentalist Leila Deen
The report states: "One MP described how his marriage was close to breakdown, as his wife blamed him for the persistent amorous intrusions of a female constituent."
Labour MP Stephen Timms , who was stabbed twice in the stomach in 2010 by a woman who tried to murder him for voting for the Iraq war, suggested it would be difficult to ramp up security.
He told The Observer. "After what happened to me I was offered a knife arch for my surgeries, but I refused because that just makes it more difficult for people to come and see you.
"It isn't the MP I want to be."
Some 239 MPs took part in the survey and 43 said they had been subject to attack or attempted attacks, 101 said they had received threats to harm them and 52 had faced threats of property damage.
The research was carried out by seven psychiatrists, including Dr David James, founder of the Fixated Threat Assessment Centre (FTAC) that assesses threats for high profile figures such as the royal family, and was published in the Journal of Forensic Psychiatry and Psychology.
Comments from the MPs who took part included: "Pulled a knife on me in the surgery"; "repeatedly punched me in the face"; "came at me with a hammer"; "hit with a brick"; "shot with air rifle".
The statements continued: "There were numerous reports of death threats, both in person and by mail, and of bomb threats", ''you'd better keep an eye on your children"; "threat to kill me by telephone at home – call taken by my seven-year-old daughter", "wife received phone calls saying 'I am going to kill you or one of your family'", "petrol poured through letter box".
The Metropolitan Police run the FTAC alongside the Department of Health, with the Home Office sharing its funding. The report was commissioned independently of the Home Office, a spokeswoman said.