A Treasury minister has sparked Labour ridicule by admitting he doesn't know what rate of tax Google is paying in the UK.
David Gauke also refused to repeat George Osborne's now-infamous claim that the £130m deal was a "major success" for the taxpayer.
Labour and Tory MPs lined up on Monday to condemn the payment, which covers back taxes owed since 2005, as 'derisory' because the firm made £3.6bn in UK sales in 2013 alone.
Standing in for the Chancellor during an emergency debate in the House of Commons, Mr Gauke faced a string of MPs who wanted to know whether the internet giant had received a 'sweetheart' deal with HM Revenue and Customs (HMRC).
Labour's Diana Johnson asked him why Google wasn't paying the 20% corporation tax like other firms.
"The minister says this does not amount to a 3% tax rate for Google. For the sake of public confidence, can he just say what the actual tax rate is?"
To loud Opposition jeers, Mr Gauke replied: " No….The position is…because of taxpayer confidentiality, the point I was making was that to look at profits from sales in the United Kingdom is not a way in which one can calculate it.
"The [corporation] tax rate is currently 20%. That applies to everybody. But in terms of the effective tax rate, that depends on the particular circumstances of any business."
Mr Gauke also insisted that as a minister he was not aware of the details of the HMRC deal. "I cannot comment in large part because I'm not privy to information [about Google's exact deal]'.
At the weekend, Mr Osborne came under fire after he tweeted that the deal with Google was a victory, and for his claim to the Guardian that it was a "major success".
But following the backlash, today even the Chancellor appeared to tone down his language, saying instead that it was merely "good news".
No.10 Downing Street refused to repeat the "major success" quote, despite being asked three times to do so.
The Prime Minister's official spokeswoman instead said: "It's a step forward. We've always been clear that we want to see low taxes for business, but these taxes must be paid."
Boris Johnson waded into the row, saying it was "absurd" to blame Google for not paying taxes.
"We buy tens of billions of pounds' worth of American hardware, software and services – and yet these companies pay quite derisory sums in tax to the UK Exchequer: derisory, that is, when you consider how much dosh they are earning from us all.
"There is a widespread feeling that the loopholes and dodges should be axed, and that they should be paying more. To a large extent I agree."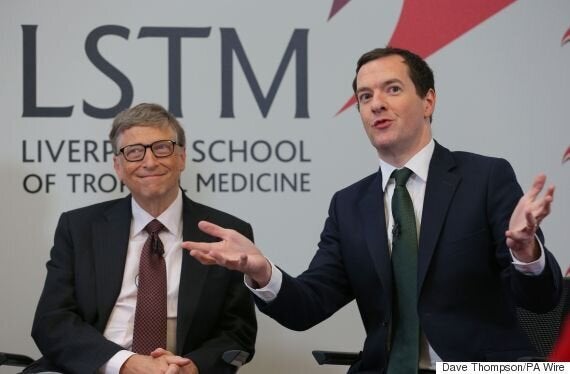 Bill Gates and George Osborne on a visit to Liverpool
Labour's Shadow Chancellor John McDonnell had tried to drag Mr Osborne to the Commons to answer an Urgent Question on the tax announcement on Monday.
The Chancellor was in Liverpool on a visit with Bill Gates to unveil fresh cash to combat malaria, but sent his tax minister Mr Gauke in his place.
Mr McDonnell was scathing about Mr Osborne's absence, saying it was "a display of disrespect to this House that the Chancellor confirms this dal with a tweet over the weekend, but refuses to come here today to make a statement".
The Shadow Chancellor pointed to Boris Johnson's quotes, as well as criticism of the deal by The Sun newspaper, to back his case.
"The Chancellor has managed to create an unlikely alliance between myself, The Sun newspaper, the Mayor of London, and, according to reports, even Number 10. All of us think this deal is not the 'major success' he claimed at the weekend."
Tory backbencher Steve Baker added his criticism of the system too.
"In the mad world of Corporation tax on international companies this sum of money is at once derisory, substantial, lawful, and completely unacceptable to the public..it is therefore time for a complete overhaul of the corporate tax system."
And Tory chairman of the Treasury Select Committee, Andrew Tyrie, called for "fundamental reform of the corporate tax base".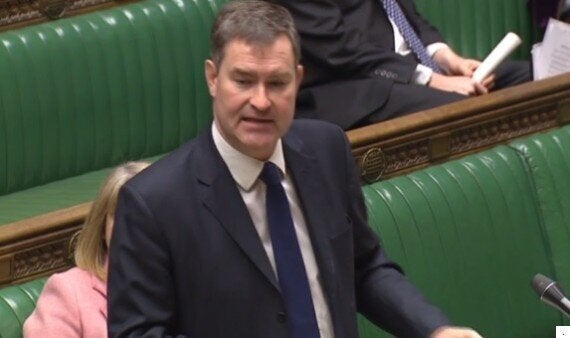 Mr Gauke hit back at Labour, saying that it was "an insult" to the tax authorities to criticise their years of hard work on the deal.
"There is no sweetheart deal. HMRC does not undertake sweetheart deals, what it undertakes is a thorough inquiry and then when companies accept their liabilities that inquiry can be brought to a conclusion.
"We are ensuring that HMRC is successful in bringing in revenue that is due under the law…. There's not lower or special rate for Google or anyother taxpayer in this country."
He also stressed that corporation tax was not based on profits on sales in a country but on assets and activity and warned there would be "severe dangers" to UK firms if such rules applied overseas.
British car firms, based here but with big sales in the US, would suffer for example if they were forced to pay tax in line with in-country sales there.
'We have been more effective than ever in collecting tax from large numbers. HMRC [staff] numbers are going up this year, not down," he said.
Mr Gauke did get some support from his own side from former journalist and now Tory MP Matt Warman, who spent two years on the story of how much tax Google had paid.
Mr Warman said there appeared to be no other country in the world that had managed to get "a deal as good as this one" other than Britain.