Two men who accidentally foiled a robbery have spoken out about their heroic act in the most Australian way possible, leaving three television anchors in hysterics.
James Ross-Munro and Kane Wiblen were approaching a restaurant on Australia's Gold Coast when they noticed a white car parked outside with no number plates.
Realising that a robbery was happening, Ross-Munro reached in and grabbed the key from the vehicle's ignition while the thieves were still inside the building, and managed to catch the whole incident on camera.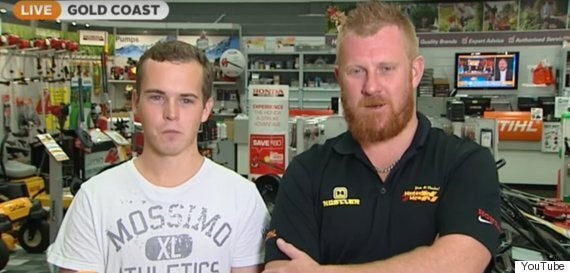 The pair had the most Australian interview ever
The heroic act stopped the perpetrators in their tracks and lead the pair to become internet sensations, racking up over a million views on their YouTube video.
Speaking to Australia's Today show, the pair described the events of the evening, in hilarious Straylan English:
Ross-Munro said: "We'd been down at Options Tavern at a stubbies and singlets party, and got dropped off by a mate up the road, we were gonna walk down the servo and get some noodles and went to jump over a sign on the way, and slipped over and busted me plugga."
Which means the pair was drinking beer and got dropped off at the service station, before the man's flip-flop broke as he tried to stop the crime.
After the incident Ross-Munro posted on Facebook: "They ran inside so I took their keys out of the ignition.
"When the driver [came] back to the car he realised his keys were missing, the passenger jumped in and I managed to land a few punches on the putrid scum's face."
The thieves made a getaway on foot instead and although the unlikely pair of heroes chased them, they managed to escape.
The Gold Coast Bulletin said that police confirmed the robbery.
A 23-year-old is currently in custody but they are continuing to appeal for information.
Related