A council has apologised after pornography was accidentally played at the funeral of a father and baby who died in a car crash in Cardiff on New Year's Eve.
Hundreds of mourners were left shocked after the video was played during the service for Simon Lewis and Simon Junior at Thornhill Crematorium in Cardiff.
Cardiff Council, which runs the crematorium, has apologised for the "accident" and said it will be launching an investigation into how the adult material came to be played on one of four televisions meant to be screening "visual tributes", the Press Association reports.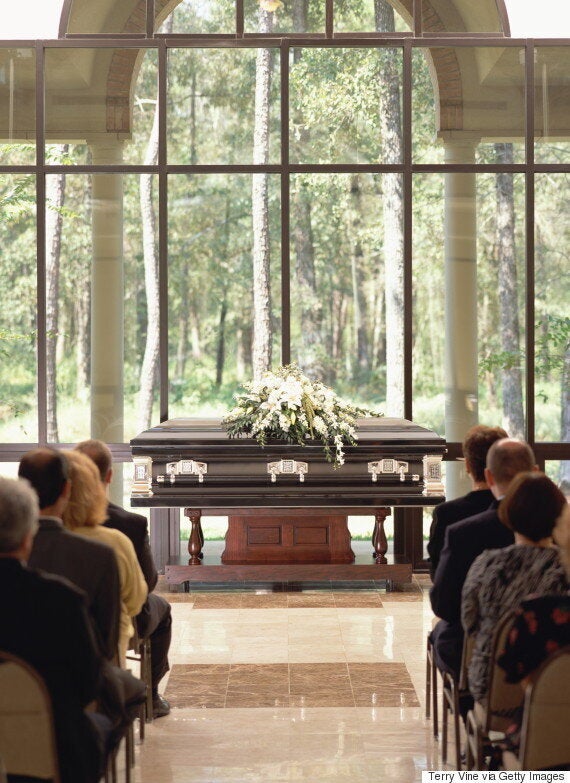 Cardiff Council has apologised after pornography screened during the funeral for a car crash victim and his baby boy (stock image)
A spokeswoman said the screen which showed the inappropriate content was recently installed, replacing a screen which was broken.
She said: "We are trying to establish if the new screen – which is a smart television - could have accepted or picked up a broadcast by accident via bluetooth or across a wifi network.
"The other three screens, which aren't smart TVs, were unaffected."
The spokeswoman said that it "isn't possible" for any staff member to play or download anything on the computer that links to the screens in the chapel, and as a result the affected screen has "now been completely disconnected until audio visual engineers carry out a thorough investigation.
"We would like to take this opportunity to send our sincere apologies to the family and to the mourners at the funeral."
Simon Lewis and his son were killed when the Daihatsu Sirion they were in collided with a blue Peugeot 307.
Lewis, 33, died at the scene. His pregnant wife, Amanda, and their three-year-old daughter survived. Simon Junior was delivered by emergency Caesarean section in hospital but died days later on January 3.
South Wales Police said Amanda Lewis had been left totally and utterly devastated by both deaths.
A family tribute issued by the force said: "Simon was a very popular man who lived for his family. He was a wonderful father and husband who was looking forward to the birth of his son.
"He will never be replaced."
A man has since been charged with causing two deaths through dangerous driving, aggravated taking of a vehicle without consent, driving while disqualified, and driving without insurance.
Kyle Kennedy, 29, of Rumney, appeared at Cardiff Magistrates' Court earlier this month and was remanded in custody to appear at Cardiff Crown Court on February 5.