Iain Duncan Smith has been accused of dodging scrutiny over the legality of the so-called bedroom tax, after he turned up in the Commons but allowed his junior minister to face the questions.
Yesterday a victim of domestic violence and the family of a severely disabled teenager won a ruling that the policy discriminates against them.
Labour MP Andrew Gwynne angrily told the Commons: "We've had half an hour of non-answers from this hapless minister when actually we wanted his boss the secretary of state to come to this despatch box to defend this disgusting and pernicious policy."
Labour's shadow work and pensions secretary Owen Smith said the ruling should have led Duncan Smith to scrap the bedroom tax.
Smith said he was "flabbergasted" that work and pensions secretary was "ducking his responsibilities" by making Justin Tomlinson, the minister of state for disabled people, respond to MPs. "We knew the bedroom tax was cruel but we now know is illegal," he said.
"Politics is about choices and the choice which faced the secretary of state today was he could have come to this House, he could have admitted this was a rotten policy which is punishing poor people across this country and he could have scrapped it."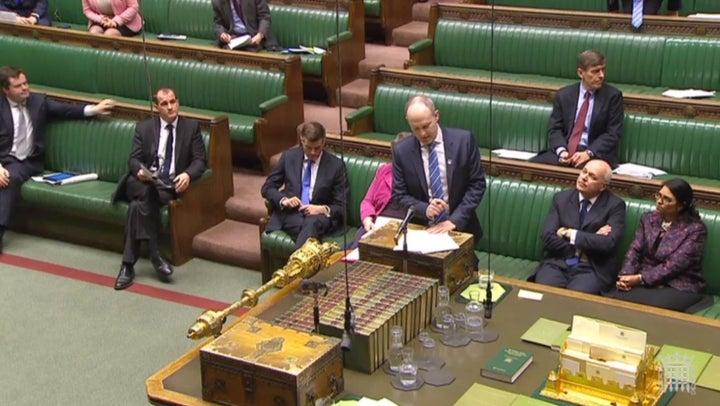 IDS sits on the frontbench as his minister answers questions
The SNP's Ian Blackford also accused Duncan Smith of avoiding tough questions by sitting on the frontbench while "whispering into the ear" of Tomlinson rather than answering himself.
And Labour's Barry Sheerman pleaded with the government to "wake up" and realise the bedroom tax was a "miserable vindictive little policy".
Tomlinson defended his place at the Despatch Box. "In fairness I am minister who responds to housing issues in parliament," he told MPs.
In yesterday's ruling, Lord Chief Justice Lord Thomas and two other Court of Appeal judges declared the discrimination had not been "justified" by the Government.
The judges declared that a woman referred to as "A", who lives in a council house fitted with a secure panic room to protect her from a violent ex-partner, and Paul and Sue Rutherford, who look after 15-year-old grandson Warren, had "suffered discrimination" contrary to Article 14 of the European Convention on Human Rights (ECHR).
A spokesman for the Department for Work and Pensions said it had been granted permission to appeal to the Supreme Court, adding: "We fundamentally disagree with the court's ruling on the ECHR, which directly contradicts the High Court."
Labour's shadow solicitor general, Jo Stevens, also criticised Duncan Smith for not answering the questions himself. As did backbencher Jess Philips who branded him a "coward".