A mother who travelled to Syria with her toddler has become the first British woman to be convicted of joining the so-called Islamic State.
Tareena Shakil, 26, was also found guilty of encouraging acts of terror in Twitter posts she made before leaving the UK.
During a two-week trial at Birmingham Crown Court, Shakil claimed she only travelled to Syria because of a wish to live under the rule of sharia law.
Jurors were shown tweets, messages and photographs, including images of the black flag of IS and passages calling on people to "take up arms", and stating her wish to become a "martyr".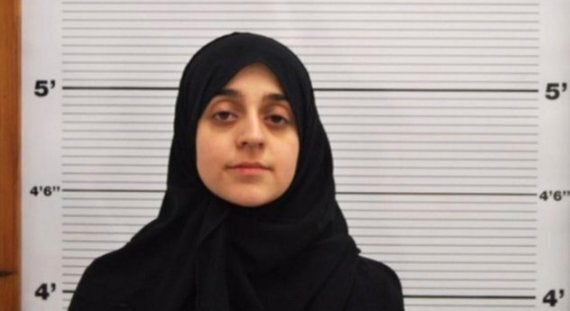 She told the court that images of her child wearing the balaclava did not represented any allegiance to ISIS.
The former health worker flew from East Midlands Airport to Turkey on October 20 2014, telling friends she was going on a family beach holiday.
But she travelled to Syria with her child and ended up living in the ISIS capital of Raqqa.
She returned home with her toddler in February 2015, when she was arrested off a flight landing at Heathrow airport.
West Midlands Police's Assistant Chief Constable Marcus Beale said: "Tareena Shakil had self-radicalised by viewing extremist material on the internet, before leaving the UK in October 2014.
"Our assessment is that she was not naïve; she had absolutely clear intentions when she left the UK, sending tweets encouraging the public to commit acts of terrorism here and then taking her young child to join Daesh in Syria.
"Photographs seized from her phone showed Ms Shakil posing with a firearm and wearing a Daesh balaclava. Another showed a rucksack with a Daesh logo and person holding a handgun. These were taken while she was in Syria.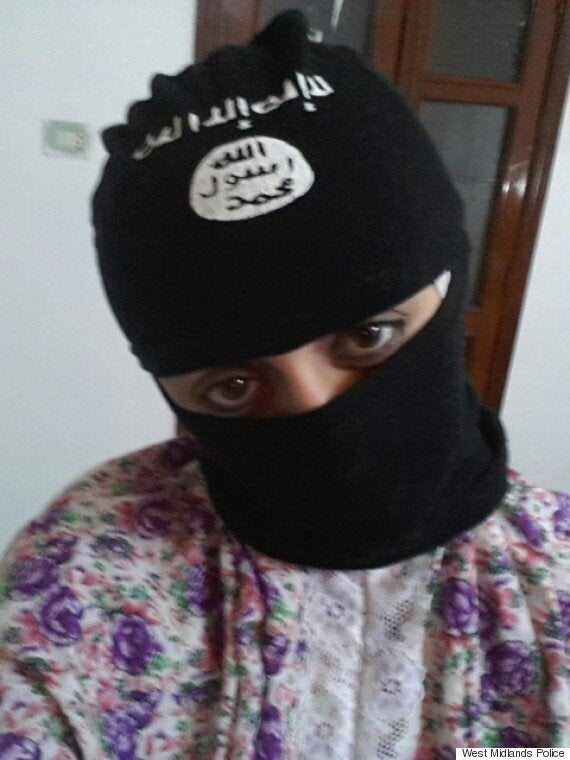 Tareena Shakil wearing a balaclava branded with the ISIS logo
"Ms Shakil had already incited others to commit terrorist acts on social media and having spent months living under Daesh, she no doubt presented a real threat on her return to the UK from the country early last year.
"Thanks to proactive counter-terrorism policing, we were able to intercept Shakil at the airport and put the necessary measures in place to protect her child from their mother's extremist ideology."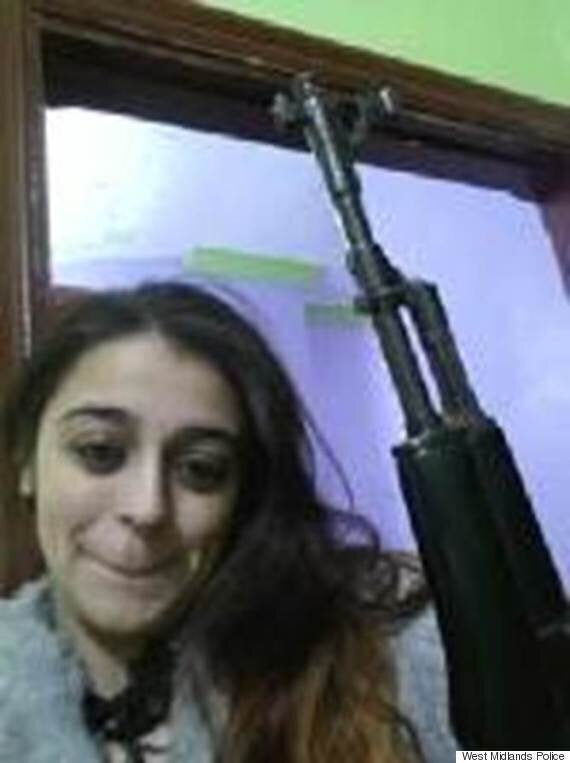 Tareena Shakil with a firearm; an image recovered from her mobile phone by investigators
It took the jury of six men and six women nine hours and 35 minutes to reach their decision, and when they did it was unanimous.
Judge Melbourne Inman QC told Shakil - who looked stunned by the verdicts - that she would be sentenced on Monday.
The Recorder of Birmingham said: "You may go down and be remanded in custody until Monday's sentence.