The five things you need to know on Friday January 29, 2016…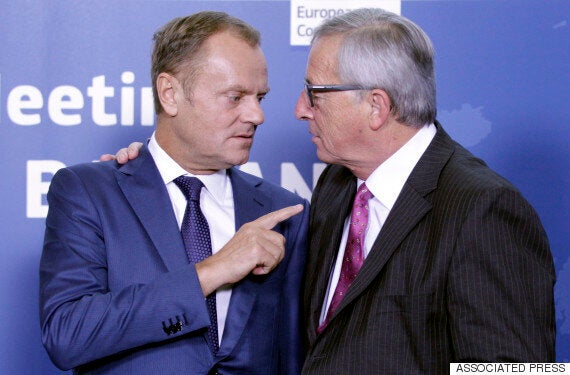 The ink was barely dry on the stories of David Cameron's latest EU'emergency brake' plan when John Redwood and other Tory MPs denounced it. Redwood told the Today programme it was "an insult to the United Kingdom, it's not a serious offer…a sick joke".
The idea an 'emergency break' was originally supposed to be a block on migrants, not on their benefits, so it's no wonder the Eurosceps are upset. The idea that the final decision on any brake application would rest with Donald Tusk, not the UK, is just one of the problems with it. But the proposal seems so flimsy that I wonder if this is not another bit of expectations management, yet more fakery? Imagine if after this, the PM gets a stronger version of the brake or of his benefits curbs? He meets Jean-Claude Juncker today and Tusk on Sunday.
leave.eu's Arron Banks yesterday had a metaphor-stretching soundbite: "People watching the slow-motion disaster overtaking Europe don't want an emergency brake on immigration, they want control of the steering wheel so we can avoid the car crash up ahead."
Speaking of Banks, it's his rivals in Vote Leave who seem to be riven by infighting. The Times says Chris Grayling was aware of the coup attempt against the Out camp's Dom Cummings, while the Indy says a board member of Vote Leave is poised to quit over the row.
Britain's football clubs stand to lose out if the UK votes to leave the EU, the Remain campaign warns today. No, really.
On BBC's Question Time last night, Patrick McLoughlin decided to double down on the PM's 'bunch of migrants' quote. The Transport Secretary was so keen to defend David Cameron that he went further, suggesting the whole Corbyn Dunkirk/Calais trip was a mere virtue-signalling PR exercise.
"He said a bunch of migrants…that's a description of what Jeremy Corbyn surrounded himself with, when he went marching over to Calais," McLoughlin said. The shock on fellow panellist Jess Phillips' face was a picture as he said it.
Some have suggested it's time to end the Twitter outrage-about-outrage cycle, but others believe that on migration the PM's words undermine his own case: he's previously argued for the need to be very careful with language on the topic, while stressing his own compassion for the kind of children and families Corbyn met.
The Guardian reports Save the Children has seen the glass as half full on the Home Office's child refugees announcement, pointing out the department had sent out two 'tonally' different press releases: one suggesting kids could be taken from within the EU, one not.
Google's tax reputation is still tanking. The Times has a story that the so-called 'Google tax' that was targeted at global tech firms does not apply to Google itself. When this phrase was first floated, I recall some in the Treasury getting very nervous and it's plain to see why.
At least on SkyNews yesterday, George Osborne finally repeated his 'major success' claim, after several days of nobody in Government or No.10 (or the Treasury) daring to utter the line.
I've been wondering this week just whether the Government will seize on Google's woes to undermine its opposition to the Investigatory Powers Bill. Step forward Keith Vaz, who will quiz the firm next week, telling the Times: "In the midst of recent media reports regarding their tax status, Google would be wise to work very closely with the government on the Investigatory Powers Bill.."
The Mail has again gone to town on the Google story, splashing that Treasury minister David Gauke 'promised cosy tax deals to US giants'. Gauke hit back on Twitter last night, dubbing the story 'ridiculous' and pointing out he actually said at the time 'We are not a jurisdiction that offers preferential special deals'.
BECAUSE YOU'VE READ THIS FAR…
I know nobody really believes the polls any more, so they have lost their traction whenever injected into a news story. But yesterday's ratings for Labour and the Shadow Cabinet were so dire that they registered a flicker of interest. And if the polls still under-report Tory support, the real story could be even worse for Corbyn.
When asked by Ipsos MORI which party had the best 'team', the Tories polled 43% compared to just 16% for Labour - a record lead. And on the question of which party 'would be best at looking after the interests of people like you', normally a question which Labour leads on and which even Ed Miliband led on, Corbyn's party is behind by 33% to 29%.
Kezia Dugdale may have wowed the Shad Cab and the NEC this week, but many expect the Holyrood elections to continue the party's pain. Frank Field displays his gallows humour in The House magazine, saying "One of my colleagues suggested setting up an English Labour party. I said I thought the Scottish electorate had already set it up."
In a perceptive piece in the Guardian, EdM's former chief aide Lord Wood says "We need to reform our economy, not just rage against it. That needs allies across political divides." Wood is on the Today prog.
John McDonnell is learning to compromise, according to an FT profile today. The man who listed in Who's Who as a hobby 'fermenting of the overthrow of capitalism' (it was not a typo, it was a gag about his love of brewing), even gets praise from John Longworth of the British Chambers of Commerce: "there are a number of areas where there can be a meeting of minds, including rebalancing the economy towards manufacturing and exports."
Still, there's a potential fresh Jez-Jess split in Labour ranks this morning. Corbyn yesterday backed a head who wanted parents to stop coming to school in the pyjamas. Jess Phillips told Question Time last night: "I may have been to the drive-thru in a dressing gown…"
Michael Gove really doesn't appear to care about trashing Chris Grayling's reputation and record at the Ministry of Justice. The Justice Secretary has executed so many U-turns on his predecessor's policies that he yesterday thought he might as well perform not one but two at once (which strangely, didn't result in him coming full circle).
In a Written Ministerial Statement, Gove dumped cuts to legal aid fees for duty criminal solicitors as well as a controversial contract-tendering procedure which would restrict the number of law firms permitted to do duty legal work.
Gove has already reversed many of Grayling's money saving initiatives, including the ban on prisoners receiving books from their families and the equally detested courts charge. He claims that it's partly due to a desire to engage with the profession but also because he had a good financial settlement with the Treasury.
Our weekly CommonsPeople podcast is online HERE. Googletax, bedroomtax, migrants, Brexit and our usual ace QuizOfTheWeek and StatOfTheWeek.
If you're reading this on the web, sign-up HERE to get the WaughZone delivered to your inbox.
Got something you want to share? Please send any stories/tips/quotes/pix/plugs/gossip to Paul Waugh (paul.waugh@huffingtonpost.com), Ned Simons (ned.simons@huffingtonpost.com), Graeme Demianyk (graeme.demianyk@huffingtonpost.com) and Owen Bennett (owen.bennett@huffingtonpost.com)