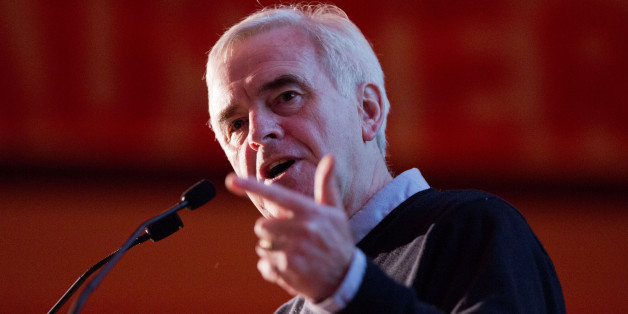 Yui Mok/PA Wire
Shadow Chancellor John McDonnell today published his tax return online in the spirit of the "New Politics" – and called on George Osborne to do the same.
The Labour frontbencher posted on Twitter a screenshot of part of his tax return for the year 2014/2015, revealing he paid £14,253 on earnings of £61,575.
He claimed he was making his financial dealings public in the name of "openness and transparency" after the £130million settlement between Google and HMRC had "created a lack of confidence in those politicians who manage our tax system".
Earlier this week, a spokesman for Jeremy Corbyn confirmed the Labour leader was considering publishing his tax return – a move which David Cameron vowed to echo.
After the #googletax deal for openness and transparency I've published my tax return today. Now it's Osborne's turn pic.twitter.com/Zrkecsk2M7

— John McDonnell MP (@johnmcdonnellMP) January 31, 2016
Writing in the Sunday Mirror this morning, Mr McDonnell said: "The Chancellor, the politician with sole responsibility for setting taxation, should be open and transparent about their own income.
"That is why in the spirit of the 'New Politics' I have taken the decision to publish my personal tax returns. And I will do so every year while I seek to be and hopefully one day become Chancellor.
"I think it is only fair that politicians set a good example. Especially those charged with or those who aspire to oversee the nation's finances."
In 2012 then-Labour leader Ed Miliband called on David Cameron and Mr Osborne to reveal if they personally benefited from the government's cut to the top rate of income tax from 50p to 45p.
Mr Cameron vowed to publish his tax return if the Leader of the Opposition did as well, but no progress was made.
On Wednesday, a Downing Street spokesman confirmed the Prime Minister was still willing to make his tax return public if the Mr Corbyn followed suit.
MPs are required by law to complete a tax return, and today is the HMRC deadline for sending over completed paperwork.
@owenjbennett @johnmcdonnellMP A self-assessment tax return is compulsory for all MPs

— Jonathan Reynolds MP (@jreynoldsMP) January 31, 2016
@owenjbennett but it's because some of our expenses might be deemed taxable benefits, and there might be an additional NICs liability too

— Shabana Mahmood MP (@ShabanaMahmood) January 31, 2016