Shadow Chancellor John McDonnell has come under fire from Yvette Cooper after declaring that refugee crises and mass migration will make open borders "inevitable."
The former Shadow Home Secretary and current head of Labour's refugee task force hit out following Mr McDonnell's remarks on the BBC on Sunday.
Speaking on the Sunday Politics programme this morning, Mr McDonnell said it is inevitable that there will eventually be open borders, warning that people are already "ignoring" boundaries that currently exist.
Former leadership contender Ms Cooper strongly dismissed the notion, and said a borderless world would undermine security, economic stability and efforts to stop people trafficking.
She said: "Border checks are really important for managing the refugee crisis - including stopping trafficking gangs, protecting child refugees who are disappearing in Europe, making sure proper asylum assessments take place so refugees get swift help and preventing people from travelling illegally if they are not refugees and have a safe home to return to.
"We need a system of clear border controls alongside sanctuary for refugees to cope with the terrible humanitarian crisis we face - that is why the Schengen system in Europe isn't working any more and many countries are rightly re-introducing border checks.
"At a time of extremist and terrorist threats, countries also need strong border checks for example to stop their own citizens going to join ISIL, or to prevent terrorists, extremists or criminals travelling with guns or weapons. And of course governments need to be able to manage and enforce immigration rules in the interests of the country and the economy.
"Labour needs to maintain a policy in favour of firm and effective border controls alongside help for refugees. I also disagree with John McDonnell about what will happen in the coming decades. Given the challenges we face, proper border checks are likely to become more important not less in future."
Ms Cooper's comments drew support from former Shadow Culture Secretary Michael Dugher, who was sacked by Jeremy Corbyn from his Shadow Cabinet at the beginning of the year.
An ally of Mr McDonnell told HuffPost UK that he was not suggesting Labour should change policy to abandon border controls.
He was instead saying the evidence is "taking things in that direction" and the UK should with the EU on the issue.
It is not the first time Mr McDonnell has spoken about the erosion of borders, as he also made the point in a speech delivered in 2013.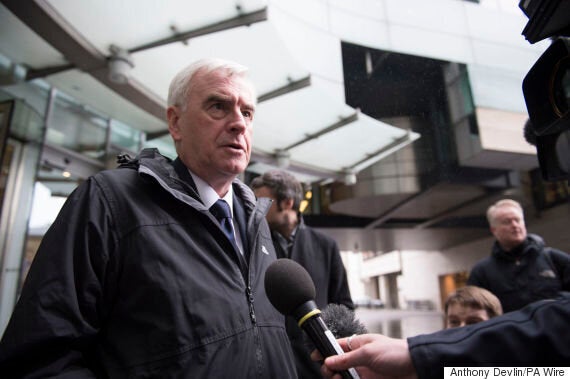 John McDonnell outside the BBC on Sunday after suggesting boarders between countries will become 'irrelevant'
Appearing on the BBC's Sunday Politics programme, McDonnell was asked to elaborate on that suggestion and said: "Inevitably in this century we will have open borders.
"We are seeing it in Europe already.
"The movement of peoples across the globe will mean that borders are almost going to become irrelevant by the end of this century so we should be preparing for that and explaining why people move."
Mr McDonnell stressed the need to deal with the causes of mass migration: Poverty, conflict and climate change.
"In that way we can deal with the reality of the world which means that people aren't forced to move but there will be movement," he said.
When asked whether he believes there will one day be totally open borders with no controls, he said: "I think at the end of this century that's what will occur.
"We are seeing people ignoring borders already as they fly from Syria."
Current estimates suggest close to 4 million migrants will arrive in the EU between 2015 and 2017.
Mr McDonnell was asked if the UK should take its fair share of those people.
"I think we should," he said.
"I think we should cooperate with others and carry the burden because we are seeing, as in the refugee crisis, the majority of Britons want us to rise to that and ensure that we assist others and that others aren't suffering and that we don't stand on one side while people suffer."
Mr McDonnell was unable to say how many people he would like to see the UK help.
He also suggested the UK should be a part of the EU's refugee quota scheme.
"I think we should be doing more in terms of assisting the refugees coming in through Syria," he said.