Chinese artist Ai Weiwei has recreated the famous photo of a drowned Syrian toddler as part of an art project that has sharply divided opinion.
Weiwei lay down on a pebbled beach on the Greek island of Lesbos to pose as Alan Kurdi, the three-year-old whose lifeless body was shown in pictures shared around the world last year.
The pictures for India Today magazine show Weiwei lying on his front with his arms by his sides, in a black-and-white shot that has been called both "iconic" and "ridiculous and inappropriate".
Harrowing viral pictures of Kurdi's body, which washed up with others on a beach in Turkey, were hailed as helping the world 'wake up' to the humanitarian crisis around the war in Syria.
Weiwei has been spending time on the shores of Lesbos, where hundreds of refugees are arriving from the Middle East and North Africa. He has helped people climbing off the vessels and is "collecting rubber pieces of the boats for an art installation project," according to the Washington Post.
The photo of Weiwei's pose, shared Twitter by former Washington Post editor David Beard, was called "horribly inappropriate" and "stupid" by commenters.
"Powerful? Ridiculous, and inappropriate you mean. Stupid, idiotic, and famewhoring too," said one. Another added, "It is a horribly inappropriate banal publicity stunt. Perhaps to keep him in the limelight."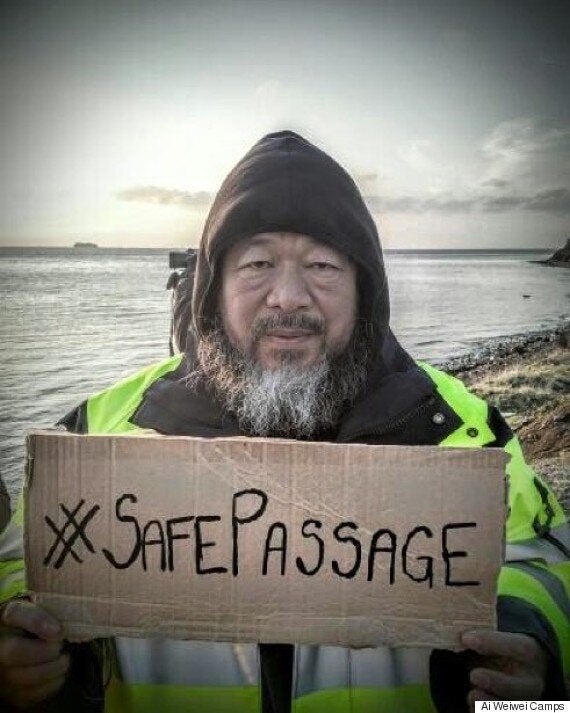 Weiwei has been researching an art project and helping refugees
But Sandy Angus, co-owner of India Art Fair where the image will be shown, said: "It is an iconic image because it is very political, human and involves an incredibly important artist like Ai Weiwei. The image is haunting and represents the whole immigration crisis and the hopelessness of the people who have tried to escape their pasts for a better future."
Rohit Chawla, the photographer who took the photos, told the Washington Post: "I am sure it wasn't very comfortable to lie down on the pebbles like that. But the soft evening light fell on his face when he lay down."
The India Today editor who interviewed Weiwei said he told the artist he would meet him at his studio, but Weiwei reportedly replied: "The seashore is my studio."
The photo is part of a series of art engaging with the refugee crisis facing Europe, according to The Guardian. It will appear in India Today and at an exhibition in the India Art Fair.
In pictures shared on Ai Weiwei's Facebook page, he is seen with refugees holding up placards saying "#SafePassage". A series of other photos show people on the shore after arriving, being helped by volunteers and travelling on a bus.
Last week Weiwei announced he was closing an art exhibition in Denmark in protest at the country's new law allowing valuables to be seized from refugees.
He told the Guardian: "My moments with refugees in the past months have been intense. I see thousands come daily, children, babies, pregnant women, old ladies, a young boy with one arm.
"They come with nothing, barefoot, in such cold, they have to walk across the rocky beach. Then you have this news; it made me feel very angry.
"The way I can protest is that I can withdraw my works from that country. It is very simple, very symbolic – I cannot co-exist, I cannot stand in front of these people, and see these policies. It is a personal act, very simple; an artist trying not just to watch events but to act, and I made this decision spontaneously."
Related