The boss of one of Britain's biggest trade unions has claimed Conservative ministers are "murdering" people and called for them to be "taken out and shot".
Steve Hedley, the RMT's senior assistant general secretary, also branded senior cabinet figures an "absolute disgrace" for cuts to disability benefits in a fiery outburst on LBC today.
Phone-in presenter Shelagh Fogarty told Hedley, "It is not a part of adult, mature negotiation to speak the way you just spoke." However, the 45-year-old continued his line of attack.
"This government are killing three disabled people a week because of the cuts - you never hear that discussed on your programme," he lamented.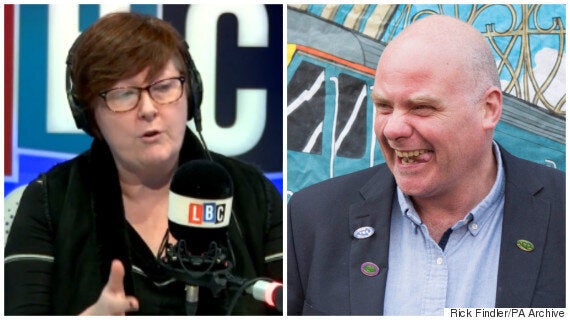 Fogarty, left, took Hedley, right, to task for his comments
"Why don't we have more conversations about what's actually going on in this country?" asked the RMT boss. "The cuts are affecting people's health and killing people every week."
"What is it with people - they can't get down to the nitty gritty and say that this government are actually murdering people."
Fogarty's attempt to calm the union boss failed, despite her refusal to let him repeat the assertions.
"Oh Steve!" she despaired. "I'm not going to let you say that, so don't repeat it...
"If your job is to represent your workers, and I was one of your workers, I would want you to represent me without resorting to things like that."
You can hear the full interview above