The five things you need to know on Friday February 5, 2016…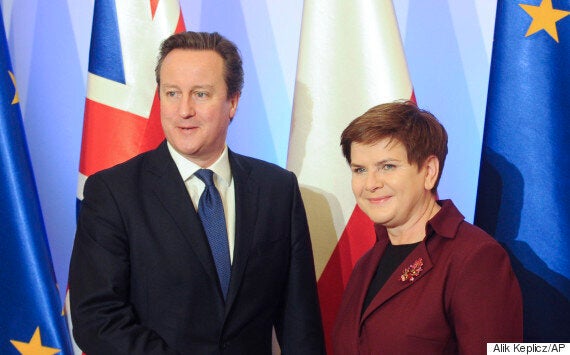 As part of his mammoth bid to win more EU Air Miles than any other PM in history, David Cameron has landed in Poland. He has fresh talks with PM Beata Szydło, before heading off to Denmark later.
The chat with the Poles won't be as easy as the one with the Danes but No.10 sounds confident Warsaw can come on board. Szydlo caused Cameron some problems at their last live press conference, pointing out how she didn't want any Poles in the UK to be discriminated against by curbs on migrant benefit. She may again play to her home audience today, but the FCO is confident the Poles want to stop their own 'brain drain' of top talent, while defending freedom of movement. Syzdlo tells the Times the Tusk plan "doesn't make me happy" and "the proposals as they stand are not good enough." EU sources have also told the BBC the draft deal is causing angst among many EU leaders now they've seen the detail. But is that all part of the choreographed row?
On Question Time last night, Amber Rudd became the latest Cabinet minister to strongly suggest a June date for the referendum. Lord Lawson in the Lords debate however marked his first appearance since heading the Vote Leave campaign by dismissing Dave's Deal as 'inconsequential scraps'.
The House magazine has an excellent scoop with Culture Secretary John Whittingdale refusing to rule out campaigning for Brexit. The Sun has its own exclusive that Cameron dumped plans for a cap on EU migrants after polling found the voters didn't trust the idea. A source close to the PM said: "We tested a migration cap. The public hate the idea of any number coming in - any number at all is too big for them, so we would have got no credit for it."
More worrying for No.10 should be the ECJ ruling yesterday that suggested any change to EU directives would not stop a migrant criminal - known as CS - from using her human right to a family life to stay in the UK (she has a son here).
As for the backbench Eurosceptics, they had another muted day in the Commons and there was fresh evidence of a lack of joined-up action. John Baron's motion didn't even have a vote because there were no tellers around, much to the Speaker's surprise. Julian Lewis, who should have been present, was heard to say 'oh well, too late'.
The Times/YouGov poll has made waves with its 9-point lead for the 'Leave' campaign in the EU referendum (45% Leave, 36% Remain, 19% Don't Know). Of course, everyone treats polls these days with a tonne of salt and plenty other surveys have given the 'Remain' camp its own lead of late.
But it does point up once again why Stuart Rose is not just any In campaigner, he's an M&S In campaigner - and not in a good way. Proving that he lacks a politician's eye for an elephant trap, he told the Press Gallery yesterday that he expected Brits to vote to stay in the EU by "a substantial margin". Cue Nigel Farage accusing him of stupendous 'arrogance'.
As for polls, the Express prompted ridicule online last night with its splash that '92% Want To Quit The EU'. The figure came from its own online poll of its readers. Even UKIP Tweeted (since deleted) that the splash was 'stupid, damages credibility of the whole movement'. Blimey.
The Times and Guardian report more infighting in the Brexit camp. And it's Dom Cummings, Michael Gove's ex-spad (whose loathing of David Cameron is heartily mutual) who is again in the thick of it. Labour's Kate Hoey has quit the group amid claims from former chairman (and Labour donor) John Mills that Cummings was "generating more and more ill feeling…entirely unnecessarily".
On the BBC's Question Time last night, Shabana Mahmood (who recently replaced Steve Rotheram as the PLP's backbench member of the NEC) seized on UKIP deputy Paul Nuttall's insistence that his party "have a heart" and won't deport all migrants.
Labour peer Lord Carter's report is out and it underlines the huge challenges the NHS has in hitting the Government's target of £22bn efficiency savings by 2021. Carter, as expected, says £5bn alone could be saved in the hospital sector through smarter working and procurement.
But the Mirror splashes on the finding that bed-blocking is costing £900m a year, and the paper repeats Labour's charge that the main reason is Tory cuts to social care. The Health Service Journal has an interview with Carter in which he says hospitals must take more responsibility for 'post-discharge' services.
The Times reports NHS chiefs saying extra staffing levels are now taking second place to balancing their books. And the Guardian has possibly the best political story: Jeremy Hunt may need an emergency injection of extra money so the NHS can pay its bills between now and the end of next month.
Meanwhile, the HSJ also revealed that the DH is cutting 650 jobs, and moving its staff from three sites into one building in London. Vacating Richmond House would certainly free it up for Parliament's relocation and the creation of a temporary Commons chamber, as first revealed on HuffPost.
BECAUSE YOU'VE READ THIS FAR…
Former miner and council veteran Harry Harpham sadly died yesterday from cancer, aged 61. Tributes flowed in from Tom Watson and other MPs on Twitter. But in the rough old world of modern politics, already talk has started about the by-election.
His Sheffield Brightside and Hillsborough seat had a 13,000 majority last May and Labour should retain it. UKIP will fancy their chances as the by-election now looks likely to take place in the middle of the EU referendum campaign, and Farage's party may see it as a proxy for the referendum. The battle for the Labour nomination will be interesting, with some left-wing ex-MPs close to Jeremy Corbyn keen to make a swift return to Parliament.
The Julian Assange's circus may continue today, although No.10 made clear to us yesterday that if he stepped outside the Ecuador embassy he'd be nicked and face extradition to face a rape charge in Sweden.
Parliament yesterday took a firm stand against sexual violence against women. First we had the urgent question condemning 'pro-rape' blogger Roosh V (he says rape should be legalised if it is on private property). MPs, including minister Karen Bradley, suggested the American's stance was an attention seeking move designed to compensate for the size of his manhood.
Our latest CommonsPeople podcast is out HERE. Ken Clarke tells us that IDS will still back Brexit even if David Cameron returned from Brussels with 'a statue in gold' - of IDS. Plus chat on women's pensions, 'lifestyle choice' of benefits and our usual Quiz of The Week. This week 'Johnny Foreigner or Johnny English?', see if you can guess which EU countries have most British expats on welfare.
If you're reading this on the web, sign-up HERE to get the WaughZone delivered to your inbox.
Got something you want to share? Please send any stories/tips/quotes/pix/plugs/gossip to Paul Waugh (paul.waugh@huffingtonpost.com), Ned Simons (ned.simons@huffingtonpost.com), Graeme Demianyk (graeme.demianyk@huffingtonpost.com) and Owen Bennett (owen.bennett@huffingtonpost.com)
Popular in the Community