A UN panel's finding that WikiLeaks founder and Ecuadorian Embassy resident Julian Assange has been "arbitrarily detained" has been thoroughly ridiculed online.
The UN Working Group on Arbitrary Detention panel called on Swedish and British authorities to end Assange's "deprivation of liberty" as part of its opinion on Assange's predicament.
This quickly prompted lawyers and other commentators to slam the finding's interpretation of human rights law. As one explained:
Sorry for spamming "arbitrary detained" but one way of promoting good use of human rights law is by exposing and ridiculing bad use of it.

— David Allen Green (@DavidAllenGreen) February 5, 2016
And people couldn't wait to help out.
#arbitrarilydetainedpic.twitter.com/ETOUksU2SW

— Dave (@Psyanide) February 5, 2016
The toilet in the Ecuadorean embassy is in use. pic.twitter.com/Q4pCKMOFei

— David Schneider (@davidschneider) February 5, 2016
#arbitrarilydetainedpic.twitter.com/mDlVffkyLM

— Sarah Churchwell (@sarahchurchwell) February 5, 2016
#arbitrarilydetainedpic.twitter.com/BJGx5mDnXN

— Dave (@Psyanide) February 5, 2016
#arbitrarilydetainedpic.twitter.com/96BdASAHHz

— stefantasist (@stefantasist) February 5, 2016
#arbitrarilydetainedpic.twitter.com/NCeng5a6im

— Tom Barfield (@tombarfield) February 5, 2016
Man is being arbitrarily detained at Argos, UN rules https://t.co/CnSMZ5XFaEpic.twitter.com/js7TE07mC7

— The Daily Mash (@thedailymash) February 5, 2016
Off to work to be arbitrarily detained for the day.

— Rachael Collins (@Beckenham_Girl) February 5, 2016
@DavidAllenGreen I am currently being arbitrarily detained by my tabby cat. Where's the UN now?

— Jason Doig (@JasonDoig) February 5, 2016
The only person "arbitrarily detaining" Assange in an embassy was Assange.So presumably it's Assange who owes Assange compensation, right? 💁

— Hadley Freeman (@HadleyFreeman) February 5, 2016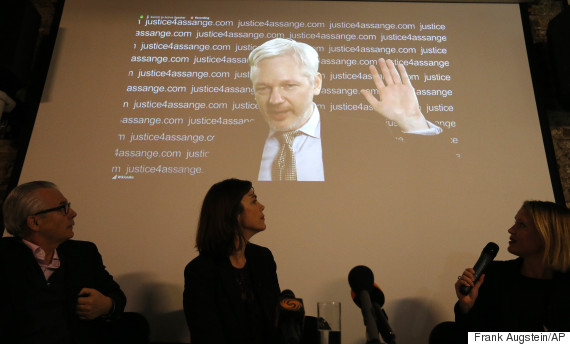 Assange speaks via video link on Friday
Assange is wanted for questioning over an alleged sex offence in Sweden, which he denies, and is fighting against extradition. He has not left the Ecuadorian Embassy in Knightsbridge, west London, since June 2012.
Speaking via video link from the embassy on Friday, Assange called this response "insulting". He added the UN decision was was a "vindication" and supposed wrongful detention was "now a matter of settled law".
After speaking for 10 minutes, Assange closed by saying: "I would like to say thank you, that I miss my family. That we have today a really significant victory that has brought a smile to my face and I hope many others as well."
The UK government has confirmed that it will formally contest the opinion of the UN panel.
In a statement the Foreign Office said: "This changes nothing. We completely reject any claim that Julian Assange is a victim of arbitrary detention. The UK has already made clear to the UN that we will formally contest the working group's opinion."
SEE ALSO: