Video footage has captured the moment two stuntmen were thrown from their motorbikes during a dramatic back-flip during a performance at the SSE Hydro arena in Glasgow.
One of the men suffered a broken jaw while another was taken to hospital with hip injuries after the trial bike disaster at the Nitro Circus performance.
On the clip, which was later posted on social media, the MC of the event can be heard saying: "That is the worst crash we have ever had."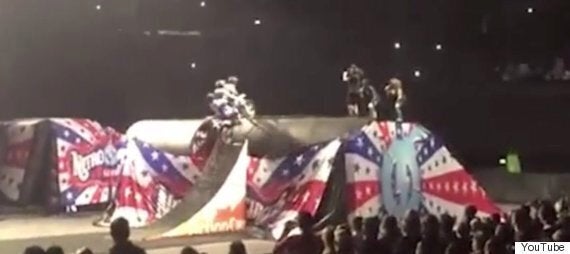 The bike appeared to stall on top of the ramp
The three passengers on the bike with a stunt driver had been thought to be audience members but the BBC reported they were actually part of the act.
The crash occurred when the bike appeared to stall near the top of the ramp and tipped over the side.
The rider and one of the passengers were able to walk away but two others were treated by medics at the scene before being taken to hospital.
Nitro Circus said one man broke his jaw in the fall while the other is fine "apart from some bruises". All of those taking part were wearing helmets.
The BBC reported that although they were announced as audience members, they were actually stuntmen, a claim Nitro Circus has yet to comment on.
A spokesman for Nitro Circus said: "During Thursday night's Nitro Circus Live show at Glasgow's SSE Hydro Arena, two passengers who sustained injuries during a four-person motorbike backflip attempt were transported to a nearby hospital.
"One is fine apart from some bruises. The other has a broken jaw and will have surgery on Friday, but is in good spirits and is expected to make a full recovery.
"Nitro Circus considers health and safety its top priority, and has expert medical staff on site in the event of an emergency."
The show was paused while workers and medical staff rushed to the scene and the MC added: "It's obviously not planned - occasionally something can go wrong. It's not meant to go wrong, so we're taking a moment."
Nitro Circus, which describes itself as an action sports entertainment company, is currently touring across Europe.
The event is being staged at London's O2 on Saturday and Sunday before moving to Zurich and Paris.
Popular in the Community