Two alleged British members of the the Islamic State group dubbed "The Beatles" have been identified in press reports, as the family of one of the men have told how they are "deeply distressed".
Alexanda Kotey has been named as a key conspirator with Mohammed Emwazi - the killer given the moniker Jihadi John, and whose identity was already well known - following a joint investigation between the Washington Post and BuzzFeed News.
In a statement Kotey's relatives told Sky News: "The Kotey family are deeply distressed about recent media reports involving Alexe. They have not seen Alexe for a number of years.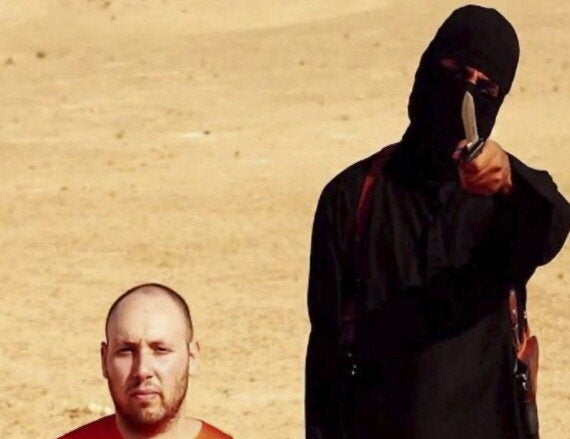 Two more Britons have been linked to Islamic State group 'The Beatles' who conspired with Mohammed Emwazi, who is pictured above before the execution of Steven Sotloff
"They would ask the media to respect their privacy and to desist from attempting to contact them, and not to seek to take or publish any photographs of them."
ITV subsequently named a second previously unidentified member of the quartet, Aine Davis.
Both men are believed to be from London. There was no official confirmation of their names by the intelligence services, although the men have long been associated with Emwazi. He was killed in a drone strike in Raqqa in November and was deemed responsible for the deaths of several hostages, including Britons Alan Henning and David Haines.
Davis's name has been mentioned in British court cases in connection with terror allegations as long ago as 2014.
The drug dealer left England in 2013 to become an IS guard, ITV said.
He was born in London with roots in Gambia, and later became increasingly interested in Islam in around 2007, the report claimed.
He was reportedly detained in Turkey in November last year, having been linked with Emwazi.
Davis's wife, Amal El-Wahabi, was jailed at the Old Bailey in 2014 for funding terrorism. She was jailed for two years after being convicted of convincing a friend to take £15,380 in euros to Turkey to help her husband and the IS fight. It is only now that Davis has been identified as one of the alleged captors.
Kotey, known as Alexe, has been described by neighbours in his former west London community as a quiet man who was dedicated to Queens Park Rangers Football Club.
An apparent father of two, the Muslim convert was deemed influential in radicalising young British men to join IS in Syria.
Raised a Greek Orthodox Christian - his mother was said to have been Greek-Cypriot and his father Ghanaian - he converted to Islam as a teen, it was reported, where he met beheading ringleader Emwazi, and Davis.
Kotey, 32, is said to have attended the Al-Manaar mosque in London, as did Emwazi. Friends told the Washington Post and BuzzFeed News that Kotey advocated suicide bombing and was often involved in fraught arguments.
According to reports, Kotey's former neighbour Kim Everett said the suspect used to play with her sons.
She described him as "lovely, a really quiet boy" and an avid follower of Queens Park Rangers.
It is not known whether Kotey was the guard dubbed "Ringo", or "George" - allegedly the most violent of the set. The quartet were apparently given the collective nickname "The Beatles" by hostages due to their distinctive British accents.
Kotey is said to have fled Britain in 2009, leaving his two children behind, when he travelled to the Gaza Strip on an aid convoy of 110 vehicles organised by George Galloway, the then-Respect MP and current London mayor candidate.
Popular in the Community