The crash happened at the town of Bad Aibling, around 37 miles south-east of Munich at 6.48am local time on Tuesday.
Ten people were killed and many more injured, 18 seriously. The trains partially derailed and a number of carriages overturned.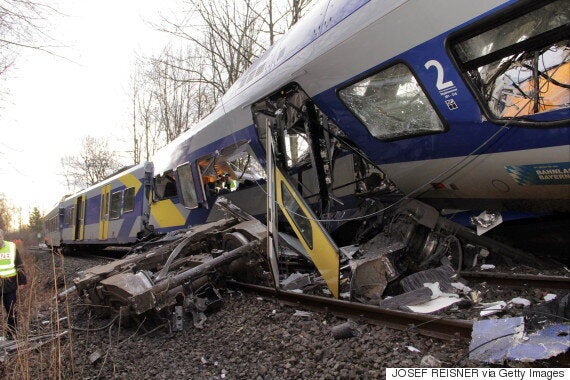 One of the destroyed trains is seen at the site of a train accident near Bad Aibling
Unconfirmed rumours had suggested a braking system designed to stop trains that had run a red light was over-ridden.
A spokesman for German police said: "Discard that, we reject that."
Despite this human error of some form has not been ruled out entirely.
Police spokesman Stefan Sonntag told The Associated Press: "This is the biggest accident we have had in years in this region and we have many emergency doctors, ambulances and helicopters on the scene."
The automatic braking device had been installed after a 2011 crash at Magdeburg in which 10 people were killed.
Related