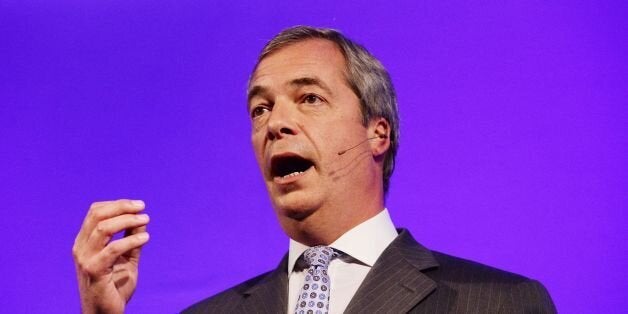 Nigel Farage today claimed the Cologne sex attacks were a "bloody powerful" argument for leaving the European Union as he told fellow eurosceptics to "man and woman up" over immigration concerns.
At a meeting of leading eurosceptics in Westminster this afternoon, the Ukip leader mocked those who were "uncomfortable" about talking about immigration for fear it would upset their "Notting Hill dinner parties."
Tory Eurosceptics such as Bernard Jenkin, John Redwood and David Davis also gave speeches at the event, but left the room just before Mr Farage took to the stage as they had to rush back to the Commons for a vote.
After speeches which focused on the economic and democratic reasons for leaving the EU, Mr Farage turned to "open door immigration", and said: "There's one big killer argument with which we can win this referendum and my concern is there's far too many based here in Westminster who fight shy of dealing with this argument.
"They feel uncomfortable. Their wives or husbands at Notting Hill dinner parties are made to feel embarrassed that such a thing should even be discussed."
He added: "We need to man and woman up and face these issues."
The campaign to get the UK out of the EU has been marred by splits involving the two main groups Vote Leave and Leave.EU.
Leave.EU was created by Ukip donor Arron Banks and had the support of Mr Farage and other Ukip figures – although not the party's only MP Douglas Carswell, who is backing Vote Leave to get designated as the official Leave campaign
Attempts at merging the two groups have repeatedly failed, with Mr Farage claiming Vote Leave did not want immigration to be front and centre of the campaign.
A third group has now emerged – Grassroots Out – which has been launched by Tory MP Peter Bone and now has the backing of Mr Farage.
The Ukip leader took a swipe at Vote Leave in his speech, with Mr Carswell watching on.
He said: "What an absolute crying shame and tragedy it is that one of the groups seeking nomination for the designation from the Electoral Commission in this referendum absolutely point blank refuses to do that and work with anybody else.
There was an uncomfortable moment later on in the proceedings when Tory MP Steve Baker, seen as one of the most influential figures in Vote Leave, was forced to sit next to Mr Farage as he attacked the group.
He said: "To my knowledge there were five times that significant offers were made from one party to another and all five occasions they were rebuffed."
Mr Baker confirmed there would be no merger between the two groups.
Popular in the Community