An Australian man has been charged over the alleged kidnapping and attempted murder of two female backpackers on a beach south of Adelaide, in a incident that has been compared to outback abduction movie 'Wolf Creek'.
The women, who are in their 20s, were rescued after they managed to escape their captor on Tuesday.
One raised the alarm with local fishermen, after being spotted running naked through the sand dunes covered in blood and screaming for help, while the other was recaptured and later found unconscious and unable to speak.
One of the women was believed to have been hit in the head with a hammer while the other was run over with a vehicle.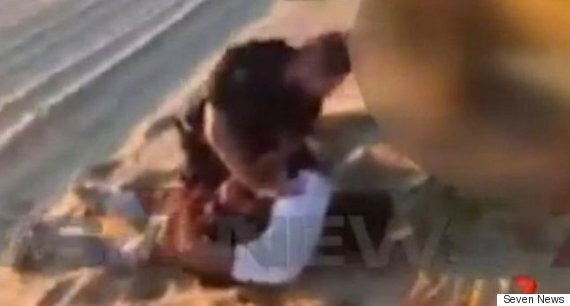 An Australian man has been charged over the alleged kidnapping and attempted murder of two backpackers; he is pictured above being arrested
Witnesses said the national park attack was reminiscent of the outback abduction movie Wolf Creek, in which backpackers are attacked by a serial killer.
The backpackers allegedly met their attacker before deciding to camp together at the isolated Coorong National Park in South Australia. The backpackers identities can't be revealed for legal reasons, however, one is understood to be a 23-year-old nurse from Brazil, and the other is understood to be from Germany, and also in her 20s.
A 59-year-old Adelaide man was arrested at Coorong National Park on Tuesday evening.
Australian broadcaster 7 News has since reported that the man, whose name has not been revealed, had been in police sights for some time and that detectives had raided his Morphett Vale home several times in the past year, seizing items of interest.
A task force has now been launched to investigate the national park incident and to find out whether the suspect has been involved in any other crimes, Acting Superintendent Trent Cox said.
Fisherman Abdul-Karim Mohammed spotted one of the injured women and told the broadcaster that she "ran straight to the car yelling".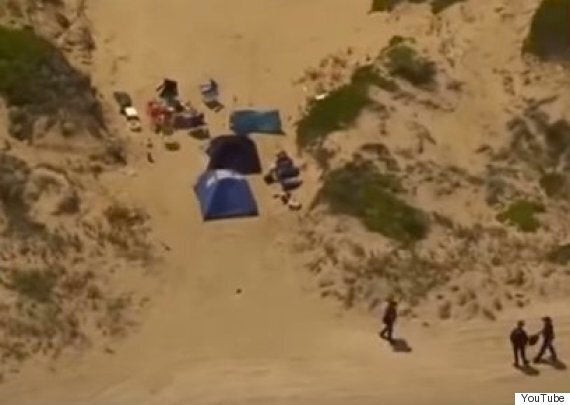 The trio's campsite at Coorong National Park, south of Adelaide
He told 7 News: "She opened the back door, jumped straight in and like, 'get me out of here, get me out of here. He's going to kill us all'."
He said the trio had been travelling from Adelaide to Melbourne, and had stopped at the small settlement of Salt Creek.
Salt Creek Roadhouse owner Adam Stewart said he encouraged the fishermen to return for the second woman after they phoned him for help.
"Unfortunately, [the women] were in pretty bad shape... We're all pretty rattled, obviously. It's a heavy event at any level. Even the police were rattled by it at a very high level," Stewart told 7 News.
Details including the accused man's identity, vehicle and alleged actions during the crimes have been suppressed.
Dramatic amateur video showed the moment police arrested the man, who was refused bail when he appeared in court on Wednesday. He is due to re-appear in court in April.
Australian media said the accused had several Facebook accounts, and in one, he was pictured with a gun.
The man was also said to have had an online dating account where he was seeking a new Asian wife, and noted that he was "respectful to women and gets along with everyone, well almost."
Both of the injured women were flown to Flinders Medical Centre where one is being treated for a significant head injury.