The so-called Islamic State (IS) has released a new video purportedly showing a young British boy blowing up a car and killing three prisoners inside.
The boy, who is thought to be four-year-old Isa Dare, is apparently shown with his hand on the detonator before shouting "Allahu Akbar", next to the burnt wreckage, the Press Association reports.
It is the second IS propaganda film believed to show the youngster, who has been identified as the son of Muslim extremist Grace "Khadija" Dare from Lewisham, south-east London.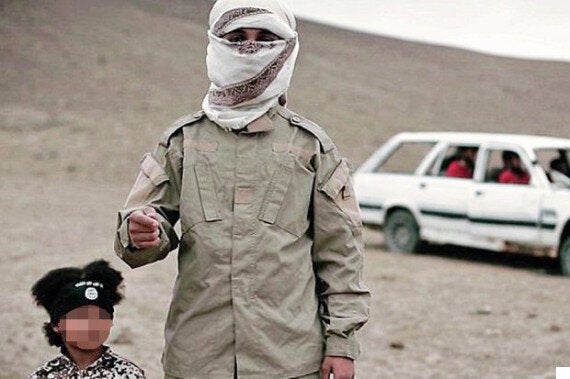 The boy as he appeared in the video, with the car in the background
In the latest video, the boy, wearing camouflage clothing and a black headband, is shown pointing and shouting about the "kaffir" - non-believers.
The three prisoners, dressed in orange, are then seen tied up in the car before a masked man standing nearby threatens Prime Minister David Cameron in a speech to the camera.
"You will never fight us except behind fortified fortresses or behind walls," he says.
"Firstly, when you sent your spies to Syria and when you authorised for your men, thousands of miles away, to push a button to kill our brothers who lived in the West.
"So today, we're going to kill your spies the same way they helped you kill our brothers.
"So prepare your army and gather your nations for we too are preparing our army."
The man, whose face is covered and who appears to have a British accent, places his hand on the boy's head during his speech.
The youngster is then shown giving an "OK" hand signal before there is a close-up of his hand on what appears to be a detonator.
The film ends with a car exploding before the boy shouts "Allahu Akbar" with his arm raised next to the burnt wreckage.
The eight-minute video opens with apparent confessions about being spies by the three prisoners.
It comes a month after young Isa is thought to have first appeared in an IS propaganda film.
His grandfather Henry Dare said he believed the boy was the unidentified child involved in the footage which emerged in January and said he was merely being used as "a shield" by the terrorists.
Grace Dare was brought up as a Christian but converted to Islam and started using the first name Khadijah, her family said. She travelled to Syria in 2012 and married Swedish Islamic fighter Abu Bakr, who is believed to have been killed since.