Health Secretary Jeremy Hunt is facing a threatened exodus of English NHS junior doctors to Scotland, Wales and Australia after he announced he will impose his controversial new contract.
Hunt told the Commons that he had no choice but to unilaterally force the new contract on doctors after the British Medical Association had rejected his final offer on pay rates for working on Saturdays.
To sweeten the pill, he offered a 13.5% rise in basic pay to make up for the cuts in pay rates at weekends and unveiled a 'review' of doctors' "morale".
But the backlash was swift, with the BMA declaring it "cannot and will not accept" a contract it says is bad for patients and the NHS and warned it would "consider all options open to us" - a clear hint of a rolling programme of strikes.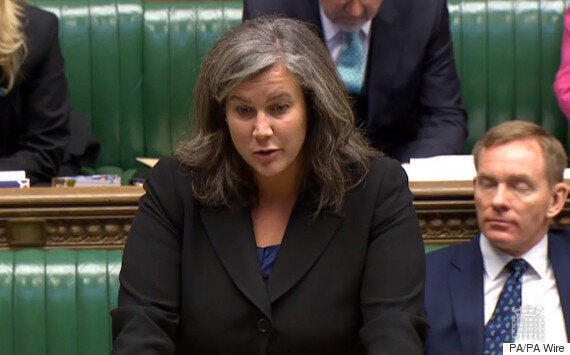 Shadow Health Secretary Heidi Alexander in the Commons
Shadow Health Secretary Heidi Alexander instantly declared that Mr Hunt was now "the recruiting sergeant" for the Australian health service, as many medics would be tempted to go overseas for better conditions.
And within minutes of Mr Hunt's hardball announcement, doctors themselves warned they were now poised to accept jobs abroad. Scotland and Wales have their own devolved health service and have vowed to keep contracts unchanged.
Jonathan Barnes, one junior medic, told the BBC that the number of young GPs and hospital doctors applying for overseas jobs was at an all-time high.
"If these changes are imposed there could be a mass exodus of doctors," he said.
The reaction on Twitter was quick.
Scotland's First Minister Nicola Sturgeon, who was speaking in the Scottish Parliament when the news broke, signalled her country would accept doctors from NHS England with open arms.
One medical student in London said she was now tempted by working in Edinburgh.
And the Welsh Government made clear it too was ready for the exodus.
And the hashtag #exodus appeared quickly on Twitter and other social media.
Others warned that the slow, steady loss of NHS England junior doctors would more more likely than an instant exodus.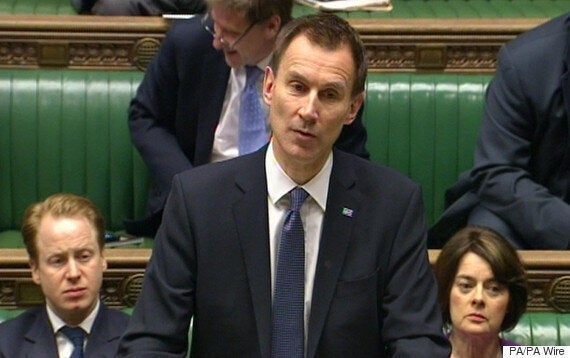 Jeremy Hunt, playing hardball in the Commons
Mr Hunt further infuriated Labour by declaring that today's announcement proved that "the Conservatives are the true party of the NHS", because it wanted to deliver a 7-day NHS that served patients better.
NHS chief negotiator Sir David Dalton had advised ministers in a letter today to do "whatever necessary" to end the deadlock in the dispute.
His letter followed the BMA's decision to reject a "take-it-or-leave-it" deal on Wednesday, which included a concession on Saturday pay.
Speaking in the Commons, Mr Hunt said: "He (Sir David) has asked me to end the uncertainty for the service by proceeding with the introduction of a new contract that he and his colleagues consider both safer for patients and fair and reasonable for junior doctors. I have therefore today decided to do that."
But his Labour Shadow Ms Alexander said: "The health secretary's failure to listen to junior doctors, his deeply dubious misrepresentation of research about care at weekends and his desire to make these contract negotiations into a symbolic fight for delivery of seven-day services has led to a situation which has been unprecedented in my lifetime."
The showdown comes just hours after junior doctors finished a second 24-hour strike at 8am in their long-running dispute about pay and conditions.
And Mr Hunt faced another rebellion from NHS chief executives after publishing a list of 20 of them who backed Sir David's letter calling for a deal.
Some of them removed their names from the list, saying they had never backed imposition of the contract.
Popular in the Community